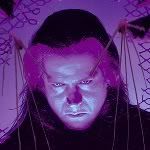 YAY!!

Danzig will be doing a one-off east coast show at the Starland Ballroom in Sayreville, NJ (where I saw AFI a a week & a half ago!) on the day after Xmas, guess I gotta take some holiday time off after all to celebrate my religion LOL....

Tickets go on sale tomorrow at noon

A lot of up & down the last few days, happy about recent political events & for the first time in my life everybody I voted for WON! So relieved to see the Democrats get control of the House & Senate (now that Allen has conceded) even tho I am an independant I'm definitely on the far liberal side.

Hopefully the car shenanigans are over. Wednesday night I went to the 7:11 to gas up the tank & when I went to turn the car back on it was dead. Blehhh.... so called Triple A apologized to the 7-11 clerk for blocking his pump & bought what passed for sone dinner there & waited. AAA sent a fellow who gave me a jump & told me to drive it for half an hour to recharge the battery so I did better & drove for an hour & went up to Frederick and back.

Yesterday morning it was fine, drove it to the Metro & parked and took the train into work. But when I came home it wouldn't start again...once again called AAA (grateful to have a cell phone at times like this!) and ended up waiting THREE HOURS due to rush hour. Bleh. This guy was more helpful & had a little machine that could do a battery diagnosis & print it out that showed that a cell had gone bad & with that print out I was able to dash over to Sears where I'd gotten it just a year ago & they replaced it free of charge with their apoligies assuring me that their "Die Hards" are usually much better than that.

The downside - I was gonna go up to Baltimore last night as I had tickets to see Matt Skiba's new side project Heavens at the Ottobar. Obviously that didn't happen. The upside - I am SO GLAD my car didn't die in a scary neighborhood like the one the Ottobar is in where I'd have to wait 3 hours in the middle of the night!!!

At least today is a federal holiday so I have off - I am planning on doing some major sleeping this weekend having been gone for the last three in a row! The sleep bank is WAAAAY overdrawn!