Just a couple more hours at work & then I'm off to the airport to fly out to Vegas to catch Danzig tomorrow. I am very psyched about the show - somebody over on the 7th House board posted a setlist from Friday night's show in Seattle (first on this mini tour) and they are doing a bunch of Samhain songs as I'd hoped (appropriate especially now with Steve Zing in the band) including "To Walk The Night" so I've got my fingers crossed they'll play it tomorrow!

Spent yesterday running around town frantically doing a week's worth of errands & all the Thanksgiving shopping so J&P will be set since I'll be gone 'til late Wednesday night (by which point everything will be closed for the holiday). Suceeded in our quest to find a Butterball turkey with "breasts like a porn star". (well they are very big & somewhat artificial the way they raise commercial turkeys these days to grow 'em large...)

And splurged on a few goodies. (Best Buy sucks my money...) Got a very neat speaker dock to fit my iPod in & charge it - its called an "iGroove" made by Klipsch (company pretty well known for their speakers) & the sound quality is awesome.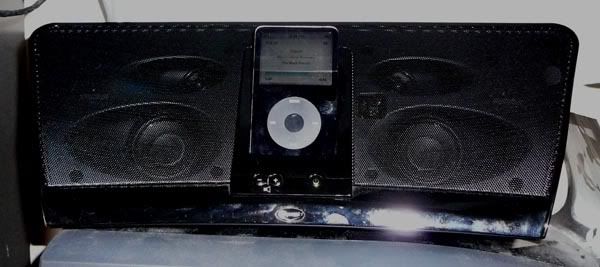 (lousy pic due to glare from flash as I had it propped on top of my scanner until I get around to reorganizing the whole desk when my new computer arrives. I need to get some speakers when it comes & am leaning towards the Klipsch set with THX)


Also got a really cute Fossil purse on sale at Macy's decorated with tattoo flash inspired designs -