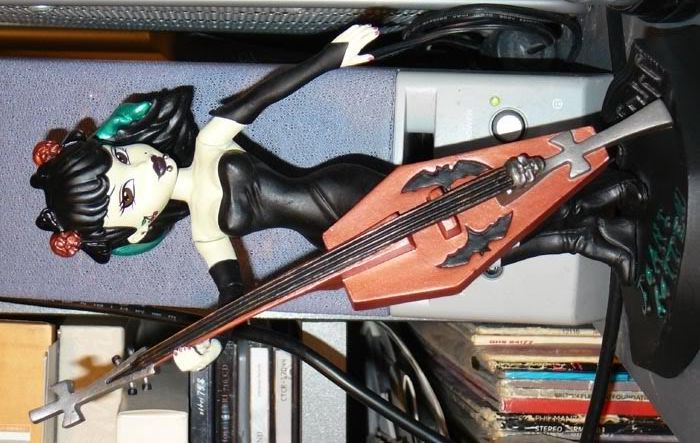 sigh... I try so hard to resist buying more toys due to the lack-o'-space but I couldn't resist this little gal I found at the comics shop. She even came with a cute little trading card with her bio:

Likes: Stand up bass, singing in band, fake eyelashes, dramatic makeup, Hootenanney, Bar-B-Ques, MySpace, Sacred Hearts, classic car shows, Sailor Jerry Tattoos, Sid & Nancy, milshakes, Johnny Cash, The Damned, and Dapper Dan.

Dislikes: Palm Pilots, recumbent bikes, dark chocolate, hippies, MTV and wireless mikes

I may give her a bit of a makeover & do some repainting as I think she needs some more ink :)

Tomorrow should be a blast, heading up to Philly after work for ZOMBIE GHOST TRAIN!!!! YEAH!!!! I just love those guys!

Just got an email from Alienware saying my new computer has been shipped so now anxiously awaiting the new big toy!!!!