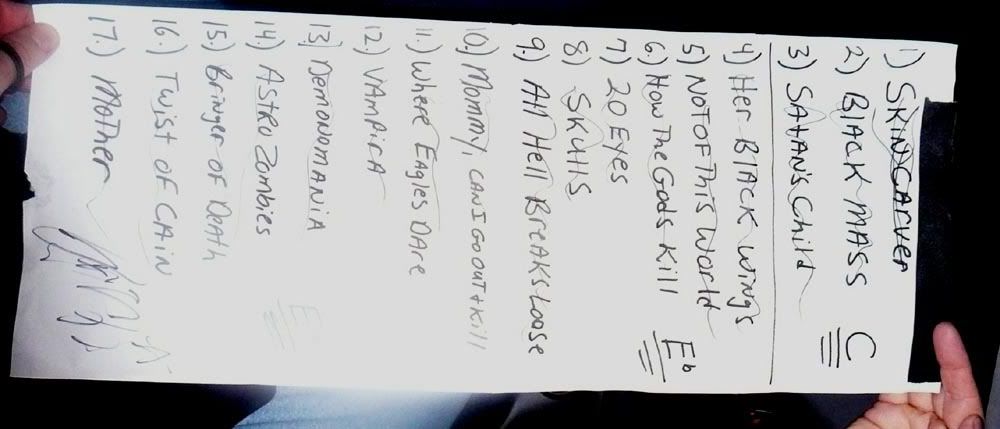 So most normal sane people spend their Christmas with friends or family.... me like the crazy I am I spent it driving through some nasty pouring rain on up I-95 & the Jersey Turnpike to arrive safe & sound (if a little shellshocked after a long ass drive) for the next day's events - a one off Danzig show at the Starland Ballroom in Sayreville, NJ (no doubt so all the guys could go home to their family in NJ & NY & use it as a tax write off LOL!) I was grateful for the east coast show considering the whole 2006 "Blackest of the Black" tour was west coast only; I'd booked my flight for the Las Vegas show I saw last month before the Sayreville one was announced as I then thought there would be nothing here on the east coast so I'm way glad to be able to have made a 2nd show. I think this was like Danzig show #87 or 88 for me, I gotta find my running list... there have been a fuck of a lot since 1990 and MAN I miss the old days....

Chris and
xmxsuicidex came up too (arriving MUCH later at the hotel but thankfully we all got to sleep in), we hit up the Sayreville Seville Diner for lunch & then got in line, met some cool folks there - they 2 guys who ended up right next to me on the rail had driven all the way from Indiana & it was their first ever Danzig show and they were huge fans who'd waited years to see him; the really nice tall guy who ended up right behind me had come from northern Connecticut & it was his 4th show - he was a real gentleman & did a great job of helping keep folks from landing on me thru the show which got pretty rough - I know Chris and
xmxsuicidex took some nasty blows and we left right after the show since they were in a lotta pain & had to drive all the way back to Baltimore so Chris could make it to work this AM.

First band up was Mutiny - a bunch of young kids trying real hard, had the rock star thing down but need to work on the music... they were pretty much ignored except when they covered the Dethklok coffee song which went over pretty big! (Not quite sure what that says about them tho!) Then next up were Doomriders, I thought they were a lot better but still nothing I'd run out and buy on my own. Let's face it tho, this is a hard crowd to play for, they know what they are here to see & if you want to impress a Danzig crowd opening up for them you'd better be as talented as the likes of White Zombie, Soundgarden, Marilyn Manson etc.

So of course the crowd went NUTS when Danzig came on - first Kenny Hickey in bright white light playing the opening to Skin Carver & then Johnny & Steve and Glenn came on & the crowd exploded.

Dave Necro from Crypt Magazine hooked me up with a photo pass so I got some shots for him; I'm sure he'll get them up soon with a show review written by Reverend Charles (of the band Dark Eden) who represented his writing staff. The email from Danzig's management said we could shoot the first 3 songs with no flash but they changed that to just the first 2 right before they went on so I hustled & did my best & it was pretty much like shooting in a war zone with flying bodies everywhere & bouncers in the way but at least I got a few pretty decent shots, I'll post a link as soon as Dave gets 'em up. But save me from myself sometimes...I'll admit it, I got greedy, when I got in & was able to grab a spot on the rail front and dead center I was not willing to give it up to shoot 2 songs from between the stage and the barrier and then have to watch the rest of the show from the back somewhere (there would have been no way in hell to make it back to the front, let alone center) so I probably could have gotten some better shots had I taken that option but I know I would have been frustrated the rest of the night.... I want to have my cake & eat it too, especially with not having any more Danzig shows on the horizon! (yeah had it been the old days & I had 5 others in a week I would have taken option a) but sadly those days are long gone & I never had the opportunity then!)

And of course they had a special guest - DOYLE joined them onstage & they did a decent length set of Misfits tunes including a couple major favs of mine - Vampira and Where Eagles Dare!! As well as many standards like Skulls, Astrozombies, Mommy Can I Go Out and Kill Tonight, 20 Eyes ect. Doyle stomps around like a giant cartoon character in full makeup & Glenn looked amused as all hell. Jerry Only eat your heart out, THIS is as close as anybody will ever get to seeing the original Misfits and the audience LOVED it.

Only minor disappointment of the night was not as many Samhain tunes as in Vegas where they did a mini Sammy set, but they did do "To Walk the Night" as one of the encores (after the first one "Long Way Back From Hell" and for the 3rd final encore they brought Doyle back out for "Due Die My Darling") So great to see Steve Zing up there on the stage - I saw his Doomtree band mates Danno & Falco off to the side of the stage during the show but never got a chance to say hello to anybody. Also during the show I saw Pete Steele to the left of the stage sitting in a tiny curled up ball in a green peacoat by one of the amps - very funny to see somebody who's damn near 7 feet tall curling into a tiny lump like they are trying to be invisible! Checking up on his boys Johnny & Kenny?

I'm worn out, tired & beat to shit but was it worth it? Fuck YEAH!