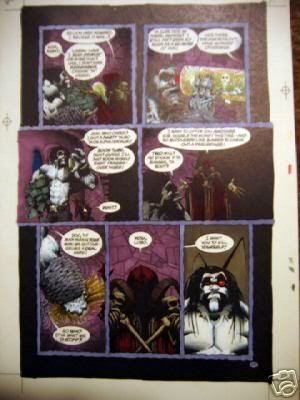 The ebay seller who had the Venus Domina cover right before Xmas had a ton more art up including 2 more by Martin Emond, a White Trash page (the last page of "Axel" riding off into the sunset) and a Lobo/Deadman painted page, as well as some Satanika pages by Eric Canete. I got outbid on the Canetes & the White Trash page (I'd had to place somewhat restrained bids in the event that I won them all) but then was able to up my max for the Lobo piece & was able to snag that one - hooray!! Here's a shitty picture from the ebay auction. I swear its feast or famine...I spend YEARS searching for his stuff & then all of a sudden BOOM! a bunch pop up. So much cool shit, not enough money!!!

I also got both the other pieces I'd finally paid off - the White Trash page from Scott Dubier & the Verotika table of contents page from Michael (Verotik Underworld). Both are in really nice condition & very tightly finished with absolutely insane detail that you miss in the reproductions. Damn every piece I see make me appreciate his work more, what a fucking shame he died so young.

Got advance tix to see "Pan's Labyrinth" tonight at the Landmark - its been a while since I looked forward to a film this much! I see Stephen King ranked it "Best Film of the Year" in Entertainment Weekly and the National Society of Film Critics also rated it best of 2006. Can't wait!!


"This is an incredibly brutal fable, and those of you expecting 'Harry Potter' are going to have an aneurysm," Guillermo del Toro, with glasses, cautioned at the Dec. 18 premiere of his film "Pan's Labyrinth." "For anyone seeking a gentler type of film there's still time to catch 'Eragon.' " No one left.