So Thursday I left early & caught Southwest out to Orange County by way of Chicago (with a two hour layover - yuck...but sadly no nonstops from BWI to the OC). However it did give me time to watch the DVD I'd just picked up of "The Prestige" which is one of the best movies I've seen in a long time, can't recommend this one highly enough, especially with a great cameo by David Bowie playing Nikolas Tesla, want to watch it again ASAP to see what I missed the first time since there's a lot of double crossing going on.

Once in OC I met up with my friend Mary who picked me up at the airport & we stopped off at a great little old fashioned mom & pop Mexican restaurant (Senor Ramons) & I had some wonderful fajitas :) Then dropped off our stuff in Westminster & changed quick & high tailed it up to Hollywood to catch Viva Hate at the Knitting Factory. We got there after things had started & there was an all girl band on called Civet I wasn't real impressed by. Then up was The Rocketz who were a lot better, they also did a cover of the Dead Kennedy's "Holiday In Cambodia" rockabilly style plus AFI's "File 13" (dedicated to Viva Hate since its an oldie from back when Geoff was in the band)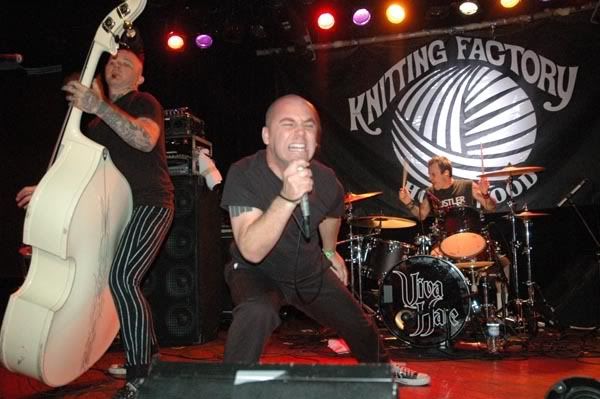 And next up, Viva Hate, finally got to see the new lineup with Greg Utter from the Swingin' Utters on drums. I really miss Chad since he's agood friend but I fully understand him cutting back on his obligations now that he's got a new baby girl and his other band Ends !n Tragedy back in Albecracky. But Greg certainly does a great job! Really enjoyed their show.... damn these guys need to get signed, Tim Armstrong was there & I have my fingers that maybe he was checking VH out, they'd be great for Hellcat's roster & I know Geoff was talking to him....

Had fun catching up with my buddy Adam who was handling their merch as Kamilla was away visiting relatives in Europe. Trying to talk Adam into coming along for the Tiger Army/Bad Religion show April 6th at the Santa Monica Civic Center & he wants to go but needs to find a ticket. It was killing him that the new NIN album listening party was just down the street at the Henry Fonda & he had to work as he's a huge Nails fan - sigh, anticipation!

Since Mary & I had both had long days we cut out after VH & missed the Koffin Kats but promised ourselves we'd stay late the next night in Corona & we headed back to the OC to crash out.