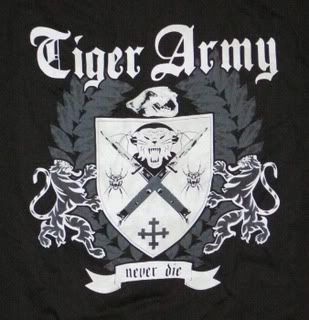 Been busy this week & haven't had a chance til now to update - had a great trip last weekend going out to see Tiger Army, flew out to LAX after work last Thursday & stayed at a very nice Marriott in Marina Del Rey that was only about 3 miles from the show at the Santa Monica Civic Center. Got in line early & spent much of the afternoon chatting with a gal I met named Ashley who was very nice & also holding a spot for her friend Terrance who came along later & was quite a hoot, reminded me a lot of my friend Andy back from Zenith comics. Terrance was making a killing selling beers out of his 24 pack to other people in line for $5 a pop, I still can't believe security didn't care, around here he would have been busted SO fast!

Mary arrived around 4 ish and Ashley held our spots while we grabbed a nice lunch in a really good little hole in the wall Mexican restaurant across the street, then back to the line & we were the first in & grabbed great spots.

First up were the Briggs who I liked a lot more live than what I'd heard on XM radio, they had a lot of energy & reminded me quite a bit of the Explosion but that's prolly partly because the singer's navy polo shirt is just like Matt's :)

Next up, Tiger Army - their first gig since we last caught them opening for AFI in Long Beach last September & the only USA show before they head off to Europe (their first show there will be this Friday in Hamburg) Very cool to hear new stuff, they opened with "Signal Return" which will be the opener on the next album & then straight into "Afterworld", the new song currently streaming on their myspace page. Sounded GREAT live & they were all in buoyant moods, especially after having been voted the #1 most requested song the night before on LA indie rock station KROQ for their exclusive of "Forever Fades Away", another new tune they played later in the show. Its so different from the rest of their stuff musically, almost, dare I say, radio friendly? I was even somewhat surprized to see Jeff Roffredo using his upright on it live as it doesn't sound like one on record, its more indie than psychobilly but I still love it, the opening guitar riff reminds me slightly of "Walk Away" by the Sisters of Mercy...

Donny, who is Mike Ness's guitar tech for Social D, came out & joined in on steel guitar for "Outlaw Heart", beautiful as ever. Funniest moment of the show was a bit later when "Shades" Roffredo was really rocking out & his sunglasses went flying and skittering across the stage. Donny came running out of nowhere, intercepted them & put them back on Jeff's face while he was still playing & they both were cracking up!

Set list as best I can remember:

----> Signal Return (new opener)
----> new song - Afterworld
Ghost Fire
Nocturnal
Santa Carla Twilight
Cupid's Victim
Rose of the Devil's Garden
Incorporeal
Outlaw Heart (with Donny on steel guitar)
---> new song - Forever Fades Away
Atomic
Never Die

then back for an encore (very very rare when they are not headlining - rare for any non-headliner) --- Annabelle Lee

And Nick 13 said that the record release show this time around would be in early June in Las Vegas - yay!!!

Bought a ton of new merch (shown is one of the new T shirt designs) & hung out talking to Albert at the merch booth a while back, he's excited about going to Europe, told him I'd see him in Vegas, that will be a blast! Probably will be at the House of Blues were I saw Danzig right before Thanksgiving.

Then caught Bad Religion who did a great set (in chronological order oddly enough) tho we watched them from the back as a few folks up front were smoking pot & making us sick... then afterwards we found the Santa Monica branch of our favorite after show diner, Swingers which is much like the one on Beverly (even the same Andy Warhol wallpaper with pink cow heads!)

And back to the Marriott to crash, unfortunately I had to head home the next day but that way I got to sleep in & catch up on rest on Sunday tho J&P and I did go spend Sunday afternoon at the movies seeing, what else, but the new Rodriquez/Tarrantino double bill GRINDHOUSE which was a blast. Funny how it was pretty deserted at the theater on Easter Sunday - I guess most folks don't exactly consider it a nice family holiday flick LOL!