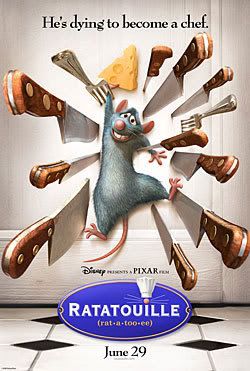 Thanks to Paula nabbing tix on Fandango, last night Judy, Paula & I got to catch a sneak preview of the latest offering from animation gods Pixar called "Ratatouille". It was technically amazing and completely charming, never pandering to children as many animated features do but instead going for a lightly more sophisticated level (though never inappropriate for the younger set) and had a lot of heart and delights for the eye.

Its the story of Remy, a young rat with a cultivated nose & palate who is dissatisfied with a life eating garbage and enjoys sneaking into a house to watch cooking shows by his favorite 5 star Michelin chef Gasteau. With his country life suddenly in upheaval, Remy finds himself in the city of lights under the now-deceased chef's famed restaurant and ends up in an unlikely but workable arrangement with their young, hapless floor mopper that leads to this team becoming the greatest chef(s) in Paree!

Pixar has always done wonders on screen, I loved Toy Story I&II, Monsters Ink, Finding Nemo, and The Incredibles and I missed Bugs Life and Cars but I think this is their best - they see everything as a challenge & try and top each feature. The detail and artistry is amazing, especially in all the foods (Peas! Corn! Strawberries!); afterwards we were compelled to hit the Broadway Diner for pastries. Also kudos to Peter O'Toole voicing the jaded critic Anton Ego who chews all the scenery for miles as he channels Boris Karloff.

And as the former owner of many pet rats it was a joy to see how well the animators had observed their movements and personalities and created cartoon rats that were indeed very ratlike and not just large mice. (Anybody who has ever owned pet rats will extol their virtues - these little guys suffer from bad press but make most excellent pets and are extremley intelligent and friendly with engaging personalities!)

Highly highly recommended!!! It is honestly one of the best movies I have seen in the last few years - I ran off & gave it a "10" on the IMDB as I can't see how they could have done anything better.