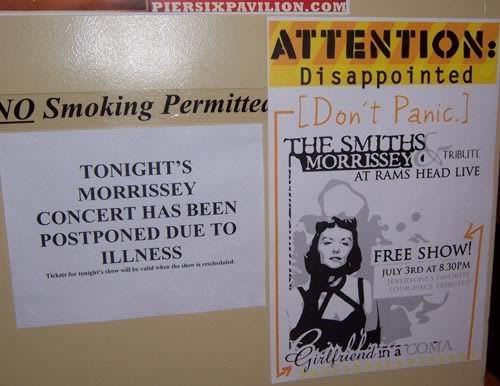 So after the great show at Wolf Trap we were REALLY looking forward to seeing Moz at the Rams Head in Baltimore which is easily one of the smallest venues booked for the whole tour. Mike and Joe had stayed at a friends house in Arlington where I'd dropped them off after the Wolf Trap show so they took the Metro out to Shady Grove and Paula and I picked them up & drove up to Baltimore. We got to the Rams Head around 1 PM & it was deserted which was NOT a good sign, we'd expected at LEAST a hundred people in line by then. So we asked at the ticket window & sadly found that Moz had postponed the show again. A post on www.true-to-you.net said:

"Following last night's performance at Wolf Trap in Vienna, Va., Morrissey was seen by an ear, nose, and throat specialist this morning in Washington, D.C. The doctor confirmed that Morrissey was still suffering from a viral infection that had caused the postponement of several shows last week, and that his throat had not healed. As a result he has ordered that Morrissey not sing again before the 7th of July at the earliest. Consequently, in addition to tonight's show in Baltimore, the scheduled concerts in Atlantic City, N.J. at The Borgata on the 5th of July and Holmdel, N.J. at PNC Bank Arts Center on the 6th of July have been postponed. An announcement will be made as soon as possible as to whether it is possible to reschedule any of these shows, and in the mean time ticket holders should maintain possession of their tickets. The tour is scheduled to recommence in Boston on the 7th of July at the Bank Of America Pavilion."

The venue decided to try and do SOMETHING for the disappointed fans so they booked a Smiths Tribute band called "Girlfriend in a Coma" to do a free show for anybody who came to see Morrissey. I thought that was really nice of them & we decided it sounded like a better way to spend the evening than going home, and we killed a few hours by heading out to the Paper Moon Diner near the Ottobar which is my favorite restaurant in Baltimore - its an old house turned into a restaurant with toys glued all over the surfaces & walls & ceilings and painted all cool and funky colors, plus the food is awesome home made old fashioned comfort food with desserts to die for. We had lunch & drowned our sorrows in huge slices of pie and spent most of the rest of the afternoon in food comas but also managed some vinyl shopping at Reptilian Records, Soundgarden and this weird little hole in the wall called "Our Guru Records" that Mike spotted - there was just a sign pointing to a buzzer over a gate in a tiny alleyway but we buzzed and Mr Guru came out to let us down this narrow passage & through a backyard into a tiny record store with prolly the largest selection of 80s vinyl I've seen outside my apartment - I found Jree a really scarce Shriekback promo 12" & Mike scored an original VHS of the Cure in Orange.

We headed back to Rams head, watched the reactions of people as they walked up & saw the sign on the door about the cancellation ( a few girls broke down crying, many walked away really upset). About 200 stuck around to catch Girlfriend in a Coma and they were actually quite good, the singer had a very nice voice and looked a bit like Moz and certainly had all the moves down. At one point he unbuttoned his shirt & revealed "CONSOLATION PRIZE" written in marker on his chest, at least he had a good sense of humor about it. I also adored his MorrisSEY shirt with Morris the cat! They played a long set of pretty much The Smith's greatest hits & Morrissey's "Suedehead" and "Every Day is Like Sunday" and got a good reception from the crowd who seemed to be relieving their frustration by singing along & dancing to the songs they loved so much. They really salvaged the evening & I am going to email the band and the venue with a thank you note for going out of their way to give the fans something to enjoy that evening.

Said by to all the West coast folks who are heading back, Doug's response was "I will see you....In the Future When Alls Well" - couldn't have said it better!

Joe & Mike missed getting a ride with their friend who was going to drive thenm back to Joe's in Philly after the (Moz) show as he bailed & left early so they crashed here & caught a bus back this morning & I'm about ready for a nap as I'm beat - even too beat to play with my new D200 that came yesterday morning!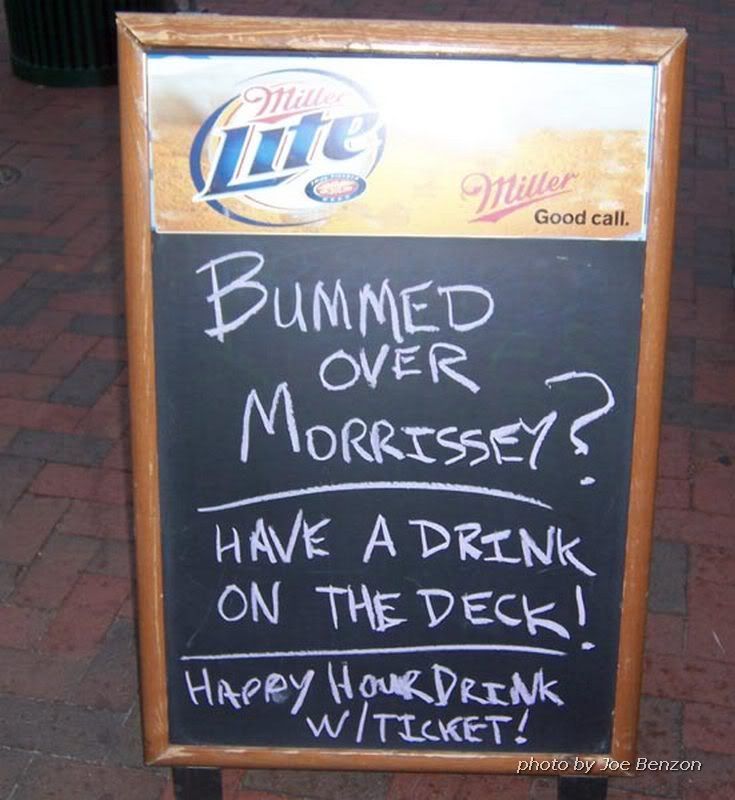 The singer of Girlfriend in a Coma - I got a good laugh at his shirt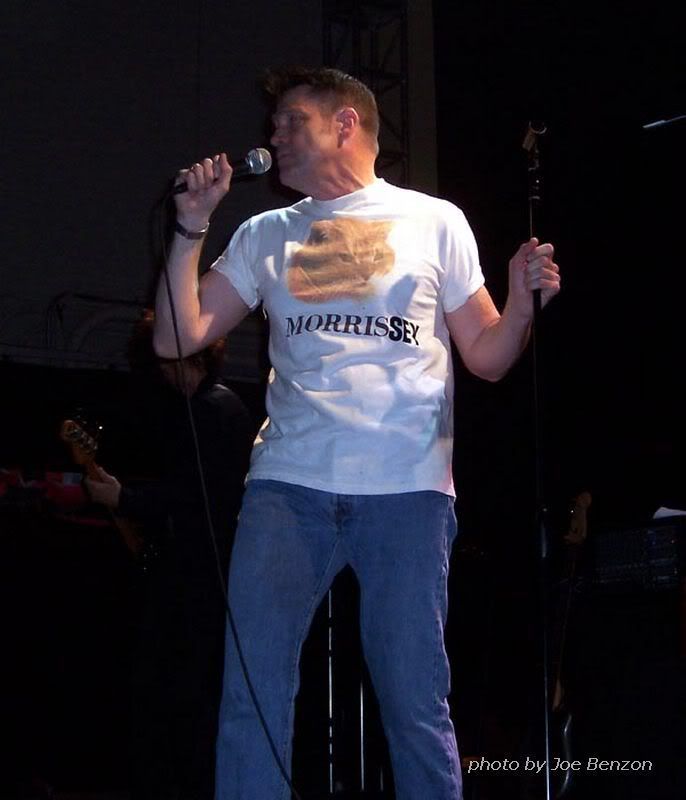 Girlfriend In a Coma's website -
www.morrisseytribute.com

here's Joe and Mike at chez planetcom



mannikin at the Paper Moon Diner