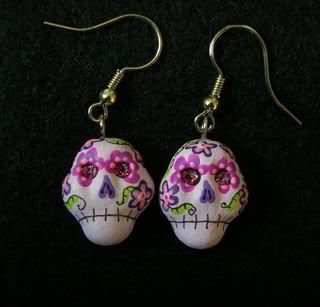 I just got the coolest little "Day of the Dead" style lavender earrings on ebay made by the seller "Claylindo" - I've been watching her stuff for a while as she makes the most amazing little sculptures & dioramas.

I think I need to start collecting these.

here ebay "about me! page - check out her dead Bettie Page and Hank Williams!!!

her Flicker album

some of my favs
Fifi & her mistress

Elivis in Jailhouse Rock

Mike Ness

the dead stripper

Dorothy & Toto

Geisha

here's Johnny!