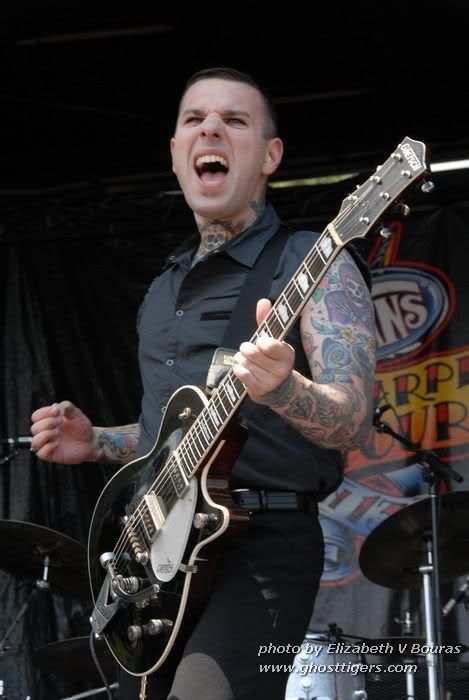 Monday I took a few hours off from work in the afternoon & had a leisurely & mostly traffic free drive down to Virginia Beach, checked into my hotel & had a good night's rest (LOVE the Marriott beds!!) and then headed over to the Verizon Center for the Warped Tour early Tuesday morning.

Took a bazillion pix of Tiger Army, The Dear & Departed and the Unseen - here's a few of TA and I need to resize some of the other bands to post. I absolutely LOVE LOVE LOVE my new camera, it is so much faster & more responsive than the old one & great for catching people in action, got wonderful pix of the Unseen boucing around like human superballs :) Its still got a steep learning curve on it and its taking a while to get used to all controls & learn all the buttons on it so I have to bring along my Magic Latern guide (a/k/a D200 for Dummies)

Finally got to ask Jeff about the new bass & yes it is a King Doublebass Tiger King and what a beauty!! Tiger Army sounded GREAT - Donny is on tour with TA this summer instead of Social D. which is awesome as now he's playing pedal steel guitar with them at every show so they can add in their country style songs, in VA Beach it was "Where the Moss Slowly Grows" which is so beautiful live. They also played "Afterworld" and "Forever Fades Away" from their latest CD & old favorites like "Nocturnal", "Rose of the Devil's Garden", "F.T.W" and "Never Die". Being Warped its only a half hour set but still well worth it!

Really enjoyed The Dear and Departed over on the Hurley stage, they played very early and there was not much of a crowd, these guys definitely deserve more attention! Then waited around until 5:30 to catch the Unseen who got a great response.

Downside... getting a bit of sunburn even tho I liberally applied the super sunblock (still nothing is effective when you are out in bright light all day) & loosing my sunglasses causing a quick stop on the way home when I spied the familiar Target logo to the side & thankfully was able to find another paid exactly the same. I think this is my 4th pair, this is why I never wear expensive sunglasses!!!