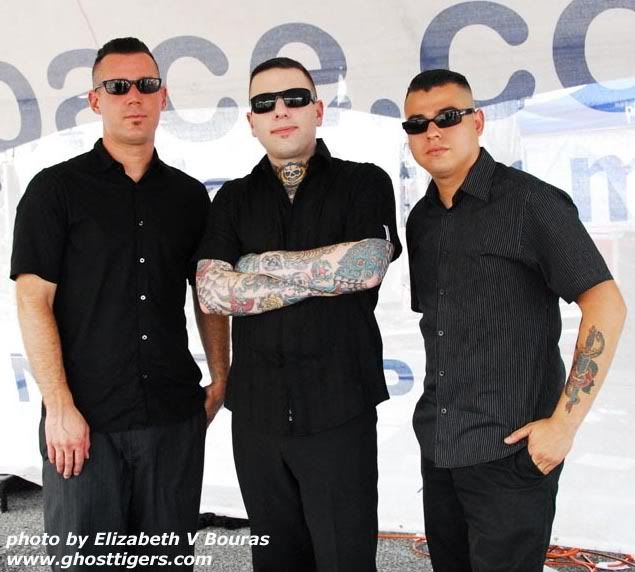 Really, I meant to get home tonight to make it in to work first thing tomorrow but its just not happening....with my luck Tiger Army was the last band on at Warped today and it took a good hour to get out of the immediate area on the little back roads surrounding Raceway Park, then I hit major thunderstorms on the Jersey turnpike & spent an hour doing about 30 mph when I wasn't pulled over in a rest area & said WTF and found a hotel.

Right now sleep will help, I've had one of the more insane weeks of my life...

Thursday - Zombie Ghost Train in Asbury Park
Friday - Warped in Camden NJ during the day, THEN drove to Brooklyn to catch ZGT again and made it back to hotel in NJ by 5 AM... (getting lost coming out of Brooklyn didn't help)
Saturday - Warped on Long Island (and more traffic from hell)
Sunday - Warped in Englishtown, NJ

Doing Warped in the day & then clubbing most of the night fries your brain fast.

Have nine zillion or so pix, haven't even had time to LOOK at them all including the ones from today but I know there are some really good ones of Tiger Army, Zombie Ghost Train, Alkaline Trio, The Gallows, The Unseen & Bad Religion :) Woot!! Oh yeah, and some of this flamingo haired creature in stilettos.

This is a fav of my boys below :)

Hopefully I can make it in to work by noon tomorrow, then I'll do it all again Wednesday when I head to Pittsburgh for my 6th (and last, sniff!) Warped show.