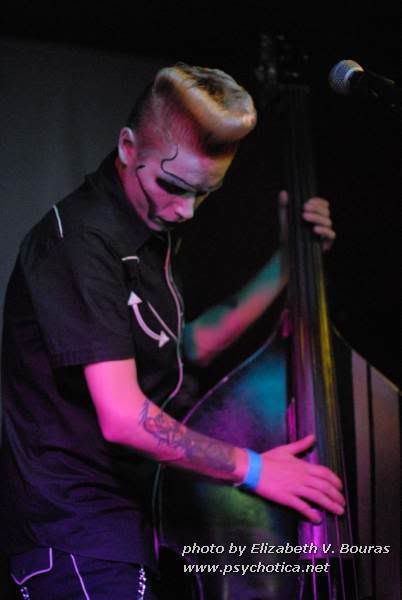 Zombies arrived late - their merch beat them by many hours courtesy of St Francis a/k/a Frank of Crash and Burn who'd flown down from Atlanta to see them & help them out (you can also order their T shirts and stuff from his website! And ones for 12 Step & Rezurex & other cool bands too!) Real nice guy, glad I had the pleasure of meeting him, we spent ages talking about computers & graphics and photography & strange bands :)

Zombie Ghost Train did a great show as always, even tho it was unbearably hot. Many many thanks to Stu for taking care of me afterwards as I was nearly blacking out & he brought me back behind their merch booth where they had a cooler fulla ice and water & aimed their portable fan right at me - he is such a sweetie!! :)

I just love those guys!!

Tons more pix on my website here:
www.psychotica.net/zombieghosttrain/SanAntonio07.html

as well as below the LJ cut below.

Damn, I just found out they will be playing with Viva Hate in LA @ Safari Sam's on the 8th. Damn I need more money. I'd dearly love to go out there for the last 3 shows on their USA tour even if it means missing out on Blaqk Audio in NYC. Anybody want a BA ticket?