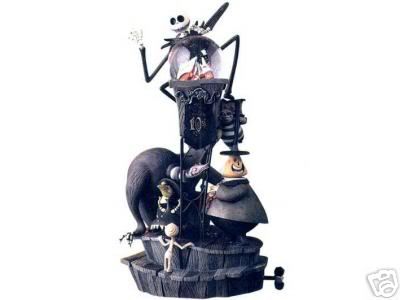 Hope all are enjoying a happy holiday - me I opted for a trip up to NJ to visit Marianne & Seth - I wanted to avoid the parking lot that is I-95 on the holidays so I took Amtrak up on Christmas eve - the train was REALLY crowded but I was smart enuff to plan in advance and get tickets for the trains with reserved seats so I wouldn't have to stand & it was far more relaxing than fighting traffic and only took 3 hours! Before boarding at New Carrollton I picked up a copy of the Washington Post and was surprized to see none other than Henry Rollins on the cover! Good old Hank was off in Iraq trying to boost morale to the boys there - good for him!

Marianne & Seth met me at the Metropark train station and we went over to her brother's house for dinner Friday & again Saturday afternoon & they treated us to waaaaay too much food = ) Marianne enjoyed the windstone dragon sculpture I gave her and she gave me some nice silver jewelry (and knows me well enough that I love silver & avoid gold!), I surprized Seth with a Casualties T & hoodie and a hot topic gift card.

Since I wouldn't be home on x-mas my roomies showered me with goodies before I left on Thursday after we got back from the movies & seeing "House of Flying Daggers" (magnificent film from Zhang Yimou who also directed "Hero" and "Raise the Red Lantern" and oh my is Takeshi Kaneshiro pretty eye candy! Yummm!) Paula continued the tradition of adding to my Nightmare Befire Christmas collection with the 10th Anniversary Snowglobe (pictured) that she lucked into on ebay & Judy gave me a neat book of photography by one of my all time fav photographers, Clarence John Laughlin and the 1st season of Pee Wee's Playhouse on DVD (I'd been REALLY hinting for that one!) And I used it as an excuse to buy myself a pressie and won an ebay auction for a TEST PRESSING of the AFI/Heckle split 7" which will be a REALLY nice addition to my AFI collection!!

At least its been a low key and relaxing weekend, i am FINALLY recovering from that awful cold & feeling better, certainly will be up to flying to Las Vegas on Tuesday - woot!!!