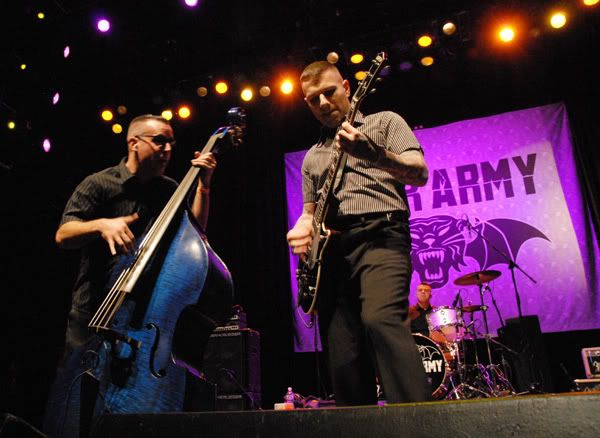 Tiger Army at the Grove, Anaheim CA - September 22, 2007


Saturday morning I drove down from Ventura to Long Beach & met up with Mary, Alex & Rachel at Alex & Rachel's apartment - great location right off the main strip (2nd Street)in LOB and walking distance to tons of great little shops & restaurants. Had a great lunch at the Shore House & got to play with their teeny little siamese kitten Efram they'd just gotten - what a doll!!

Anaheim was one of the absolute best Tiger Army shows I've ever seen (and this was, what, 74??)) - It's really great to see them selling out such a huge (and posh) venue & folks were so into it & singing along, and man what a great setlist, I'm still tripping over them digging out "Trance" and glad to see "Santa Carla Twilight" and "Through the Darkness" back in the set list as from the Record release show to the Warped tour they were only doing one track from TAIII (Rose of the Devil's Garden).

I had suuuch a great time, met some very cool folks, especially ones sharing the stories behind their TA tattoos, got some GREAT pictures as the lighting was wonderful for working without a flash (too bad the venue was so anal that I had to take the camera back to the car after I shot TA & it was hard not to cry when I could hear them playing "Rose of the Devil's Garden" from the parking lot as I missed my favorite song) I fretted over leaving it in the rental car but thankfully it was OK, some venues are just weird & the Grove is more anal than the House of Blues if you can believe that!)

Ran into lots of people I know including Stace from the DF & Daphne from Texas & Ozzie from the Black Rose Phantoms was industriously flyering after the show & selling BRP merch out of the trunk of his car (I kid ya not, Alex got their full length CD & I picked up one of the angel T shirts)

So glad I made it out & I'll definitely be back in SoCal for the 2 Wiltern shows and meanwhile I'll do it all again the weekend of Oct 5 at the 3 Florida gigs & many others. Considering what else I've been through lately I'll be glad to be out of the apartment a lot of weekends this fall & keep my mind off things.

Tour update: Imperative Reaction will only be on the tour thru the Texas dates as their drummer is going out with VNV Nation so the Static Age will be joining the tour early.


Setlist:

Prelude: Signal Return
Afterworld
True Romance
Santa Carla Twilight
Hotprowl
Rose of the Devil's Garden
Cupid's Victim
LunaTone
Trance
Incorporeal
Forever Fades Away
Pain
Through the Darkness
F.T.W.
Never Die

Encore 1:
Temptation/Towards Destiny

Encore 2:
Annabelle Lee



Anaheim setlist: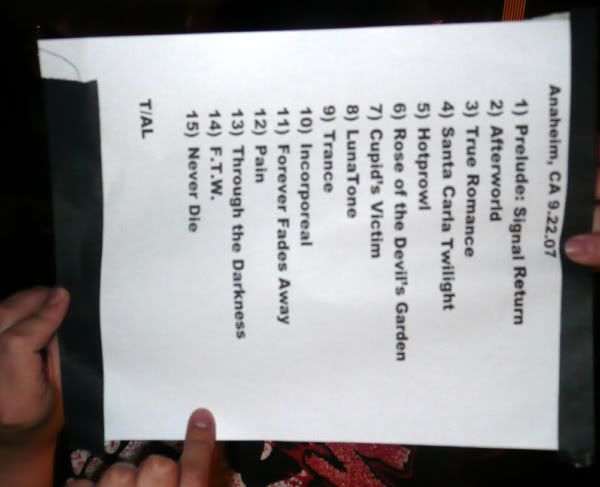 Despair Faction on the rail: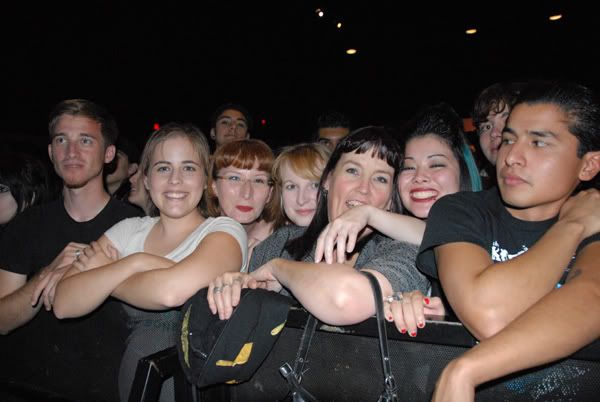 A rather enthusiastic gal & her fan art of Nick & Davey she threw onstage (along with a stuffed tiger)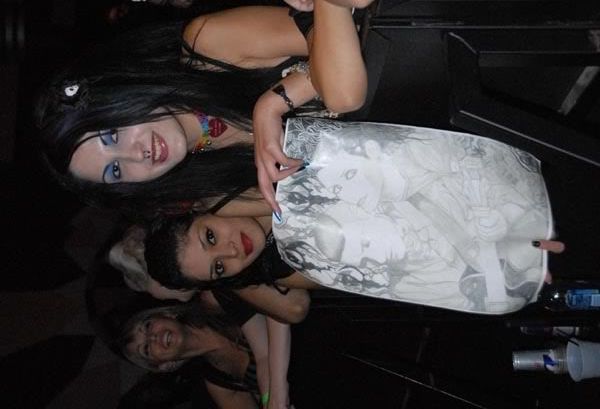 Tigerbat tattoo - this fellow had quite a story to tell. He got into Tiger Army 4 years ago at the lowest point in his life after his little daughter had died and credits TA with keeping him going thru the dark times, helping him heal and saving many thousands of dollars in therapy. He is now planning to get Kat Von D to do an entire backpiece with a portrait of his daughter & incorporating Tiger Army related art and lyrics around her. He also plays in a band that does TA covers & said they closed their latest show with "Forever Fades Away" & got a huge ovation.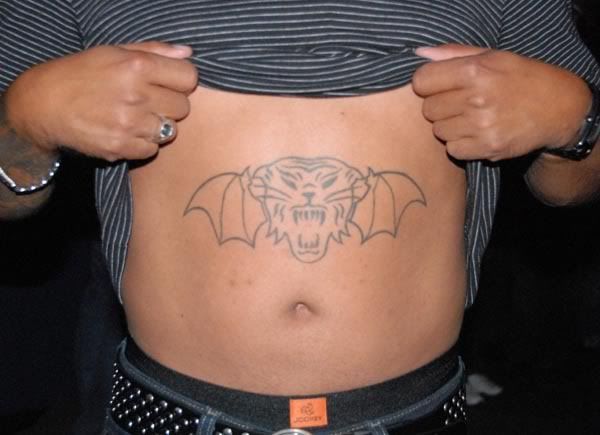 some more TA ink: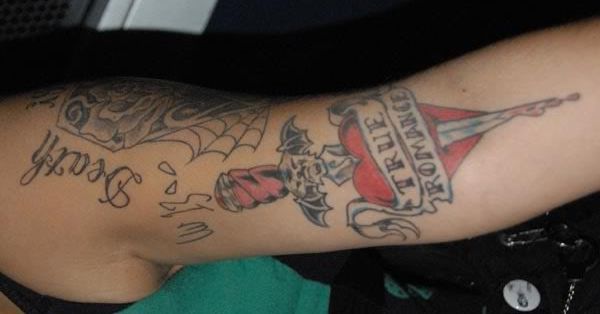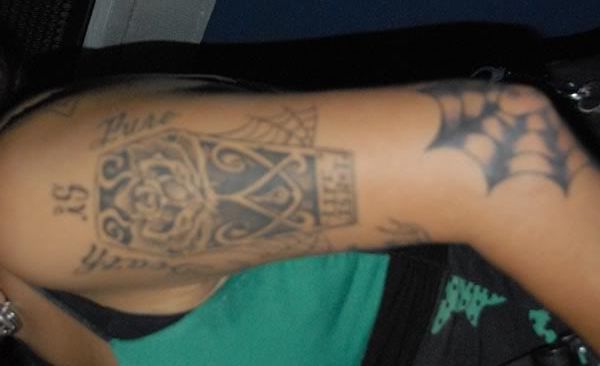 The show....