It was an amazing show - I got there early & was one of the first in line and was on the rail and there was a big equipment box between the stage holding the rail up & Glenn kept coming & standing on the box RIGHT in front of me, got to grab his hand a few times - I got really PUMMELED and am covered in bruises and for a few moments I wasn't sure I'd make it thru the Misfits set but I am so glad I held on, I have never seen such an intense show in my life - it was my 82nd Danzig show and easily the smallest and most packed venue I've seen him play! I thought I might have cracked a rib but I'm basically OK & grateful for Amelia and her vicodin! I did manage to sneak in my digital camera but the security were so adamant about no cameras and saying they would throw people out & I watched them confiscate them that I didn't even try, I am still kicking myself for not trying to bring it in Vegas where they didn't give a shit, at least I got a few with the disposable there that I posted.

The misfits songs they played were -
20 Eyes
Skulls
Mommy, Can I go Out & Kill Tonight
Die Die My Darling (which Glenn says they forgot to do in Vegas)
Earth AD
Hatebreeder
She
We Are 138


encore (just Misfits tunes, no Danzig encore like in Vegas)
Devils Whorehouse
Bloodfeast

Also in the Danzig set they added Black Angel White Angel and it was unbelieveable, it is easily my fav on the new album and the new song I most wanted to hear, Glenn introduced it & said it was the first time they'd played it live, it was amazing.

After the show I went downstairs to buy a dry t shirt & got the Circle of Snakes shirt with the cover art from the new CD & ended up talking to Matt & Pete from Eyes of Fire for a while, they are VERY cool guys, I got a CD from them & signed it for me, they'll be supporting Danzig on the upcoming tour & I told them I'd see them in Cleveland, they said there are a lot more dates they'll be playing going up to Roseland in NYC.

Wanted to hang around afterwards & try find some of the posters from the 7th House messsage board but I was so sore I was having trouble walking & left to go grab something to eat we headed next door to Rainbows and it felt weird to be there without Kristin! Then back to the hotel for a shower & some painkillers, feeling MUCH better now but I sure have a lot of interesting bruises.

Off now to find some breakfast then will be lining up early to get in line for the Wiltern show tonight!

Below: while looking for the Key Club we found the statue of Rocky & Bullwinkle that the Misfits posed in front of (in the liner notes to "Walk Among Us") further down Sunset Boulevard so I had to get a pic!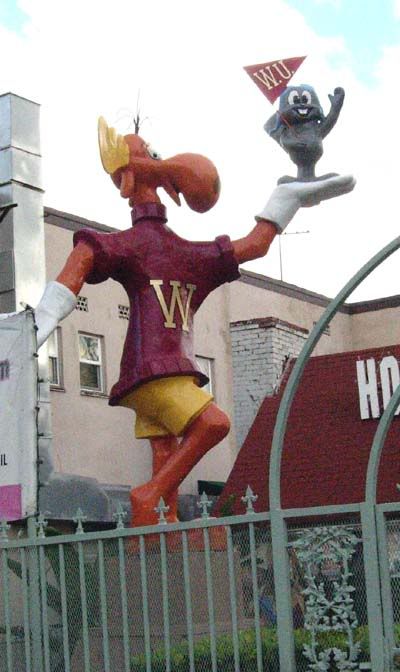 A cool painted jacket I spotted in line: