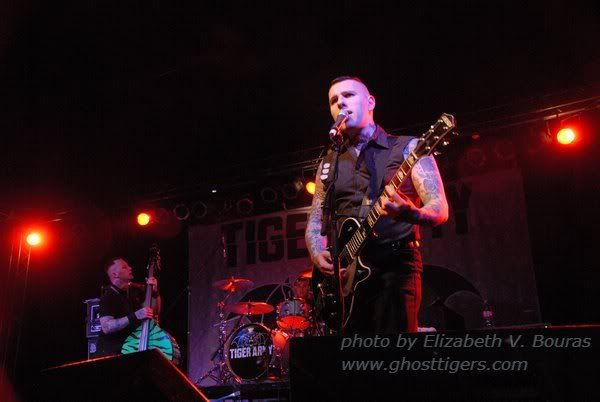 Got the Super Shuttle to pick me up yesterday in the early morning & was able to nap oon the way to BWI & thankfully didn't have to worry about the icy roads & my fear of driving on them, had a nice uneventful flight to San Diego & picked up my rental car & met Alex & Rachel at the hotel.

We found a wonderful mexican restaurant in old town and I enjoyed some fantastic chicken fajitas, then we headed on over to SOMA to get in line. My friend Misery caught a bus down so Alex and Rachel went & picked her up at the station while I held spots & meanwhile I finally got to meet David the bassist for opening band The Dear & Departed.

David and I have been writing back & forth for a few months since he'd a huge fan of Psychotica & is trying to track down Pat Briggs to interview him (sigh, good luck...I told him how i THINK I spotted him at the corner of Sunset & LaBrea in Hollywood a year & a half ago but by the time i drove around the block he was gone) Turns out his girlfriend was at the listening party we had for Pandemic about 10 years ago & there are pix of her I took on my website - small world again!!!

Dear & Departed opened & were fantastic, my only complaint was that it was too short a set! (only 5 or 6 songs) Got pix I'll post later as I still have to download the from the card. Next up was Revolution Mother, kinda hard rock meets punk like if ZZ Top went hardcore. Not really my thing but they played well enough.

Finally Tiger Army was up, it was sooooo great to see Kresge back on stage with his amazing green tiger striped King Doublebass Road King... Nick seemed to be in a REALLY good mood, Geoffw as very energic, just a TON of energy at the show.

Amazing set list with many favs - haven't heard them play Devil Girl in a LONG time and its the first time I've EVER heard them do American Nightmare (one of my all time 2 fav Misfits songs)

Didn't get a chance to talk to Geoff afterwards as he was pretty sick (during the shiow he could barely talk and you could tell from his voice how ill he was but he still put on a great show) but I ran into Kamilla & it was great to see her, she and her friend are starting a new band called "Soda X" so I look forward to checking them out! And Geoff is definitely also still in Viva Hate but they'll have a "stand in" filling in for him at the shows booked at the same time as the Tiger Army tour.

Prelude: SIgnal Return
Afterworld
When the Night Comes Down
Devil Girl
Santa Carla Twilight
LunaTone
Hotprowl
Rose of the Devil's Garden
Pain
Through the Darkness
F.T.W.
Forever Fades Awat
Cupid's Victim
Nocturnal
Never Die

Encore:
American Nightmare (Misfits cover!!!)
Annabelle Lee

And I was COMPLETELY blown away when Nick dedicated Pain to me... I'm sure its because of the letter I sent him w/his Christtmas card & present.

At all the shows this year he'd introduce that one by saying how it was for anybody going through a rough time and I wrote and told him how much all the fall TA shows meant to me by giving me something to look forward to and enjoy myself when I'd been through such a bad period with Judy dying so suddenly and how much his music meant to me (Tiger Army's lyrics have just hit me on a more personal emotional level than any other bands, I guess I can just identify with them more). So when he dedicated that song I knew it was because of my letter & it really meant a lot to me.

Lots of pix on my website here!