An enigmatic photo (at right) found in an online slideshow illustrating goth in fashion in today's New York Times online lead me to google Marchesa Luisa Casati (1881-1957) who was truly one of the most inspiring eccentrics of the modern age. I can only imagine how I might have turned out if I'd known of her when I was a teen obsessed with all sorts of fin de siecle' decadence, as if the influences of Oscar Wilde, Diane Arbus and Chas Addams were not enough, I know she would have been a dear muse. Oh to have such wealth, beauty and style as well as the balls to pull it off, the most outrageous I've ever achieved were a few car wrecks from distracted drivers while I wore Vivienne Westwood in suburbia in my youth.

But whether or not I knew her name her visage was eerily familiar as she modeled for many of Alastair's drawings as well as being his model for Salome.

As soon as my paycheck comes through tonight I shall be ordering her biography from Amazon

Bio here- http://www.marchesacasati.com/bio.html



And I dearly loved this article "Siren of the Century" reposted here:

Disregarded by her husband, Luisa became frustrated with her function as genteel wife. So it was not unexpected that she began an extramarital affair. But it came as a shock that it was conducted with Gabriele D'Annunzio, Europe's most infamous writer. Typically, once he began such a liaison, the rakish D'Annunzio baptized his paramour-of-the-moment with a nickname. Luisa was no exception: he dubbed her "Kore," after the goddess Persephone who, according to Greek myth, was transformed from virginal maid into the Queen of Hell after her abduction by Hades. But although Luisa approved of the legend's symbolic relationship to her own life, she gave the moniker continental panache by Frenchifying it into "Coré." D'Annunzio was thrilled, but unprepared for the bat-winged siren that burst forth from the discarded shell of the former Luisa Casati.

To dramatize this metamorphosis, Luisa made several daring changes to her appearance. In an era when no respectable woman wore cosmetics, Casati bleached her face dead-white with ivory make-up; bloodied her lips scarlet; and ringed her large green eyes with kohl, India ink, and even thin strips of black velvet. Her coiffure was ignited into a henna inferno, while toxic belladonna eyedrops dilated her pupils into Stygian voids. And then to further augment these unearthly effects, Luisa set out to become the premier fashion plate from hell. Refined and frilly fineries were replaced by gender-bending outfits featuring plunging necklines; glittering harem pants; black pearls and peacock feathers; and later, the occasional tigerskin top hat and pirate's eye patch. Very soon, the D'Annunzio affair, as well as an ever-growing repertoire of fashion crimes fuelled scandal sheets across Europe.

The decadent playground of Venice provided Casati with the perfect base of operations. Roofless, ruined, and equipped with its own overgrown garden, the Palazzo dei Leoni on the Grand Canal became her haunted palace. While extensive internal repairs were made, the exterior's moldering decay was left deliberately untouched, much to the displeasure of her elite neighbors. Furthermore, its tangled garden soon echoed with the growls of the Marchesa's pet cheetahs. When a nearly nude Casati took the jewel-collared cats on a midnight stroll along the Piazza San Marco, her path lit by torches borne aloft by an equally unclothed Moorish manservant, her legend to astound was established.

Luisa's childhood fantasies had now developed into a passion for dressing-up. Her everyday vampiric appearance was enhanced by outrageous costumes. Her Venetian fancy dress balls became renowned—not only for their scale and expense, but for their hostess' entrances. The Marchesa appeared as a Harlequin at one and a Persian princess at another. Once, she arrived by gondola in an immense 18th century hoop skirt, escorted by a battalion of liveried footmen adorned with plumes. On another occasion, Luisa had her male servants stripped and covered in gold leaf, leading to rumors that some had died from suffocation.

Luisa discovered that her prior inhibitions could be overcome through the use of flamboyant masquerade. But Casati's outlandish and rebellious behavior was not limited to such galas alone. She smoked opium in Capri and drank absinthe in England. To achieve an especially macabre manifestation, the Marchesa attended one opera with her fiery tresses pierced by white peacock quills, whilst the blood of a freshly killed chicken flowed down her pale arms, a sight that caused a few demure damsels to faint. At a performance by the Ballets Russes, Luisa dressed in a gown of egret feathers that molted as she moved, leaving her nearly naked by evening's end. She shopped Paris with marmosets scampering about her shoulders, attended dinners with live snakes encircling her throat, and arrived at the races accompanied by a white greyhound dyed blue to match her hat.

Sometimes Casati's devilry exceeded even these examples of aesthetic anarchy. Her abiding fervor for the occult led to rumored celebrations of black masses. To be sure, the Marchesa's library was stocked with books on sorcery and spells, all bound, or so she claimed, in human skin upon which hair still grew. Accompanied by D'Annunzio, she was seen trying to raise the dead in a Roman cemetery. And she became known to seat life-size wax mannequins at her dining table—some said to contain the ashes of past lovers driven to suicide by her follies. One doll was a replica of a murdered young woman that was, like Trivulzio's embalmed lover, kept in an armoire, that is when its artfully re-created fatal bullet hole was not being displayed to sheepish guests. Another of these ghoulish toys was a carefully created double of its owner for which Luisa even had matching garments made by top couturiers.

Casati's sexuality could be taken to equal limits as well. Gossip began that her muscular menservants were also bedmates. Regardless, the Marchesa's penchant for the peculiar led to erotic experimentation. Indeed, D'Annunzio bestowed upon Casati the additional title of "the Divine Marquise" in homage to the Marquis de Sade. More than once, Luisa proudly flaunted the teeth-marks from their lovemaking, causing one observer to note that she wore such bruises in place of jewels.

and the end…

…Before long, the nearly bankrupt Luisa fled to London where she began a nomadic existence. Residing in dilapidated mansions and musty rooming houses, her leopardskin pocketbook became moth-eaten and held nothing more valuable than belladonna eyedrops.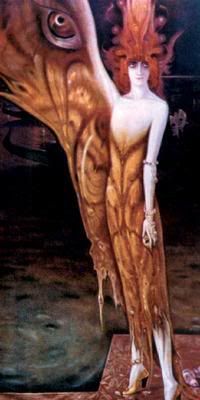 Portrait by Romaine Brooks: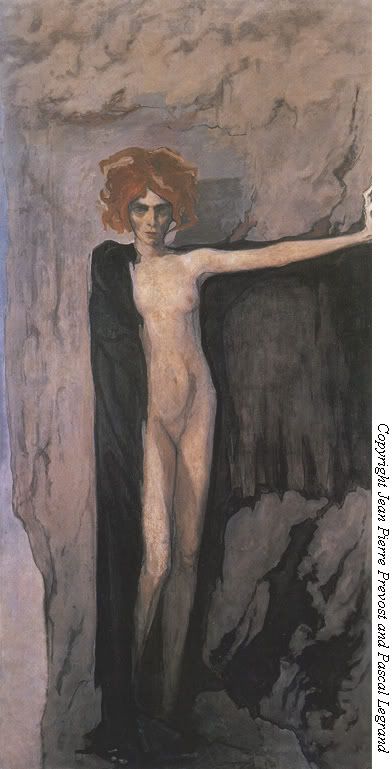 Photos by Man Ray: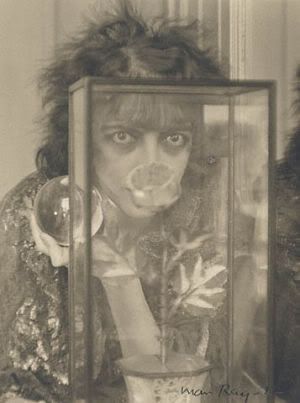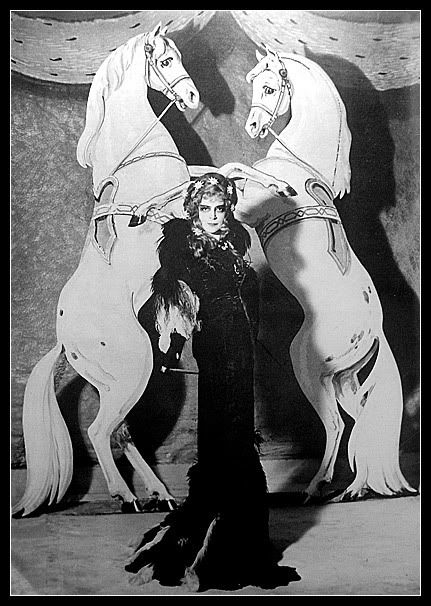 more portraits: