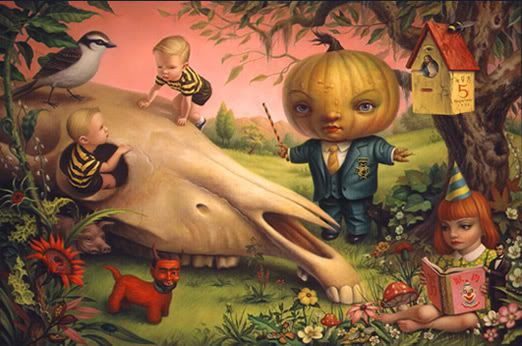 Well for a while now I've been meaning to contribute to the Obama campaign and I think I just made up for my procrastinating as I got an opportunity to make a significant contribution and get a nifty piece of art in return.... a few days ago I got an email from the Merry Karnowski Gallery in LA, where I'd caught the Camille Rose Garcia show last November


Mark Ryden and Merry Karnowsky are pleased to be offering a new limited edition lithographic poster in honor of the Art For Hope exhibition being held on Wednesday October 1, 2008 from 7 - 10 pm. Reservations will take place between September 23 - September 30, 2008, and are first come, first serve. There will only be 500 posters available.
All proceeds from the Poster will go to the Barack Obama Presidential Campaign.

Poster Description: The Pumpkin President
The poster is printed on heavy weight paper, signed and numbered, and is embossed with the Porterhouse seal in the lower right hand corner. This poster comes with a certificate of authenticity.

Thank you!
Mark Ryden and Merry Karnowsky

This is a win-win situation - I love Ryden's work (even more so after being able to see the Creatrix in person at the Juxtapoz show) & was never able to get one of his prints before and this one is very cool and halloween-y, plus I can send a big chunk of money to the Obama campaign & I really hope it will help!!

I've been spending WAAAAY too much time obsessively reading about the presidential campaign and Maverick McCain and Caribou Barbie are scary as fuck. I'd love to believe that they are so crazy and out there that folks would all see through their stunts but I've learned not to underestimate the stupidity of the majority of Americans, after all they re-elected George W Bush... I'm not even a Democrat, I'm an Independent, but Obama really impressed me with his acceptance speech and in the debate last week plus seems to be a very intelligent guy (unlike some others I could think of...) and I don't think I've ever wanted a candidate to win so badly, this country is in the worst shape I've ever seen it in and desparately needs somebody with a vision to pull us out of the mire. The last few weeks have been crazier than any reality show, sometimes I feel like I'm watching a slow motion train wreck.

I'll be biting my nails until November 5th.

Meanwhile I'm glad I moved all my savings out of stocks & into Government Securities tho I wish I'd done it sooner, lost enough but it could have been much worse. I had a weird dream about the stock market tanking before this. I'm definitely obsessing too much about current events when I'm dreaming about the stock market.