October 22 –

Caught our flight on Delta in the afternoon and switched planes in Salt Lake City after a quick run to the next terminal, then relaxed as we flew into Santa Ana/John Wayne airport. I was very happy to have found cheap flights between DCA National and John Wayne as we were able to take the metro in to DCA and not have to worry about paying for long term parking and John Wayne is MUCH nicer airport to fly into than LAX without all the huge lines and more convenient since we were going into and coming back from Anaheim! Unlike Southwest (that I usually fly) Delta actually has on board entertainment other than my laptop so I was able to glue myself to CNN for the whole flight & watch election updates. Um, I thought part of the reason to take a vacation was to distance myself from the everyday news? I'd just gotten to be SUCH a news addict in the months leading up the election.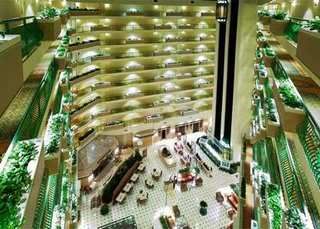 Landed in Santa Ana, got our luggage & went to pick up our rental car & felt like we won the rental car lottery again (last year we'd gotten upgraded from a compact to a luxury Chrysler 300!) They were all out of the cheapie subcompacts like I had reserved so wanted to know if a Mustang would be OK? Um, yeah!! So I got to tool around in a lovely white sports car for the next week with a helluva lot more pickup than my little Hyundai.

Then checked into the hotel – a great deal from Hotwire, for $69 a night we got a one bedroom suite at the Hilton Suites Anaheim/Orange that was practically walking distance to Anaheim Stadium and The Grove. Our eyes about fell outta our heads when we opened the door & had to walk down the HALLWAY in our suite to the dining room/living room! And the bathroom was ginormous with a separate shower stall from the bathtub & the toilet set off in its own little alcove.

Thursday October 23 –

Slept in a bit, it was a day to vege.

Got in line early for Tiger Army and met Cale who was armed with his camcorder & hired by the band to do a documentary on Tiger Army & the fans in the vein of Morrissey's "Hulmerist". He was looking for hardcore fans to interview so promised to help best I could by posting on the ghosttigers site and forum as well as a few other message boards, Nice guy, hails from Oklahoma and had just finished a similar project for a band called Demon Hunter.

Opening for the first night of the 5 OCtoberflame shows were the War Tapes who I'd last seen in Tempe in mid Sept. I really like this band & I think they just keep getting better and better, very '80s influenced a/a Joy Division/Bauhaus/Echo and the Bunnymen/Psychedelic Furs etc. Good stuff. Pix here -http://www.flickr.com/photos/sistinas138/sets/72157608779411471

Next up, and a real treat for an opening band as they usually headline, was VNV Nation - a bit stripped down from their headlining show without the huge lighting rigs but still put on an excellent show and seemed a but surprize at the good response they got from what they thought wouldn't be their crowd. Pix here - http://www.flickr.com/photos/sistinas138/sets/72157608776921105/

Finally time for Tiger Army, the first of 5 very special shows before they take a long break & Nick 13 works on his solo country album. They went WAY out of their way to make these shows special & totally switched around the set lists, each night playing a few songs just that time, including some that had never been performed live. For a totally devoted/far gone fan I couldn't imagine missing any of these shows!

Also got to see the guys debute some nice new instruments - Geoff has a new King Doublebass, guessing it is a Road King model, in a very pretty polished natural wood finish and Nick has a gorgeous Gretsch White Falcon he'd use for a few songs each night. Swoon, what an amazing guitar!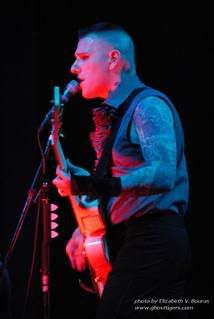 Setlist for OCtoberflame 1:
Prelude: Signal Return
Hotprowl - with special guest Brandon from Bleeding Through on backup vocals
Jungle Cat
Power of Moonlite
LunaTone
Fog Surrounds
Cupid's Victim
American Nightmare
Outlaw Heart
Calling
Pain
Rose of the Devil's Garden
FTW
True Romance
Forever Fades Away

Encore:
As the Cold Rain Falls !!!!!! with Ronan Harris from VNV Nation on keyboards!!
Never Die
Under Saturn's Shadow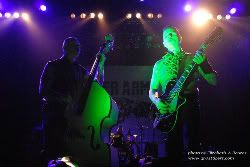 Unbelievable! NEVER thought I'd hear "As the Cold Rain Falls!" Pix from night 1 - http://www.flickr.com/photos/sistinas138/sets/72157608804279053/. They were having fun with the lights, I just loved the green lights underneath they used for the "spooky" songs like "Power of Moonlite".

After the show we picked up Misery at the bus station as she'd gotten in too late for the show after missing the right bus by moments as her taxi had taken the wrong road - ARGH!Commiserated at Dennys & then headed back to the hotel so I could drool over her wonderful new camera (my dream camera), a new Nikon D700. It was actually great to get to see it in action doing EXACTLY what I would use it for, this camera is designed for low light levels with an ISO of up to 25,600 and very little noise as it uses the same sensor as Nikon's top of the line D3, only $2,000 cheaper! I can't wait to get my hands on one of my own, hopefully next spring after income tax refund time! I shouldn't complain though, I had my own shiny new toy as right before I left I picked up one of the new Apple MacBooks - the mini version of MacPro (13" with same specs as the cheaper MacPro) and am still learning to use it. VERY glad I got it before the trip since my old Dell Inspiron was running so slow and I was grateful for the Macbook speed with both Misery and I emptying out our memory cards & saving to CD or external hard drive each day. Unfortunately I still don't have a copy of Photoshop formatted for Mac so I had to wait until I got home to resize/watermark pix.


Friday, October 24-

Checked out the nearby Block at Orange mall and got a few things at the Virgin Megastore. Drove around aimlessly for a bit trying to replace the lens cap I'd lost the night before & finally found one! Yay! Then we stopped at Native Foods in Costa Mesa for a great lunch and cleaned them out of cupcakes & brought a bunch to Albert.

Got in line about 5 for the show & chatted with Cale & the other folks in the "VIP" line. I gotta say I met some really amazing people at these shows that I hope I'll be able to keep in touch with. Paulina travelled all the way from Mexico City for the 5 shows as Tiger Army has never played there, she was staying with her aunt & uncle and cousins in Yorba Linda and we ended up giving her rides back after shows so she wouldn't have to spend a fortune on taxis and hey, if we can convince TA to play Mexico City we can go visit!

Also got to meet Jeff who came down from NorCal, a very intelligent & intense fellow very dedicated to Tiger Army, also a big fan of the Misfits as well with the Crimson Ghost tattooed on the back of each hand, we had many long & intense discussions on music & related topics over the course of the shows.

Also got a chance to get to know Laura (Virgin Sister Bones) and Ashley better, I'd run into them many times before like at MusInk and the previous years TA Grove show but got to know them better – they are a pair of very fun glamorous & creative gals.

Also my friends Alex & Rachel made it to all the shows, Rachel gave me a beautiful gift of a tote bag she'd sewn out of REALLY cool Halloween fabric of a black cat & pumpkin, the graphics looking like ones from vintage decorations. It is awesome.

Mary also managed to make it down for the Friday show, it was great to see her, just sorry she couldn't make it to all!

Opening that night were Civet – an all girl punk band on Hellcat Records – I'd seen them once before opening for Viva Hate and the Koffin Kats at the Knitting Factory about 2 yrs ago and hadn't been that impressed but thought they'd gotten better. Pix here: http://www.flickr.com/photos/sistinas138/sets/72157608766716724/

Next up were a very fun band – the Sweet and Tender Hooligans who are a Smiths/Morrissey Tribute/cover band but loads of fun. Their singer bills himself as the "Mexican Morrissey" and he had the look and all the moves down pat. Just as good as Baltimore's own Girlfriend in a Coma! Pix here - http://www.flickr.com/photos/sistinas138/sets/72157608774358339/

After Sweet & Tender Hooligans it was no surprise that Tiger Army performed "The Loop" that night, more tribute to Moz!



Tiger Army Setlist for OCtoberflame 2:
Ghost Tigers Rise
Wander Alone
Afterworld
Moonlite Dreams
Ghosts of Memory
Devil Girl
Ghostfire
The Loop
Pain
Rose of the Devil's Garden
F.T.W.
Forever Fades Away
Nocturnal
Cupid's Victim

Encore:
Where The Moss Slowly Grows (with special guest Chas Smith on pedal steel guitar)
Incorporeal
Never Die
Annabel Lee

Pix from night 2 here: http://www.flickr.com/photos/sistinas138/sets/72157608881602836/

Saturday October 25 –

Went to Huntington Beach in the AM, saw way too many scary people picketing in favor of Proposition 8 (proposition to repeal the legal gay marriage in California). Checked out the shops near the beach & then headed over to Electric Chair and got a wonderful pair of fuzzy purple leopard creeper sneakers. On the way back we stopped at the Westminster Mall and I got a great shirt at Torrid with an oriental tiger design on sale, some cool Maleficent stuff for Paula at the Disney store and found a anime store full of cool tchatchkas and got some Death Note goodies for me and Champloo and xxxHolic stuff for Paula.

Opening up first for Saturday were Enjambre – not familiar with them, they were OK but didn't really grab me. Pix here: http://www.flickr.com/photos/sistinas138/sets/72157608776864417/

Next up were Calabrese who are a lot of fun live, wonderful Misfits-influenced horrorpunk heavy on the "whoa ohs", only my second time seeing them (they'd opened for TA in Tempe, AZ at the Marquee in September when I went out for that show as they hail from Phoenix I believe) but I enjoyed them a lot. Was only disappointed in that after Tiger Army played the venue quickly threw everybody out the side doors as they were holding a rave in the courtyard out front so I couldn't go back & buy any merch as Calabrse have lots of cool shirts & posters and I hadn't picked up any earlier as I'd rather buy stuff after the show so I don't risk loosing it during the night. Humpff. If only I'd known, it sucked for the bands though as I'm sure they'd hoped to sell a lot of merch.
Pix here: http://www.flickr.com/photos/sistinas138/sets/72157608777266169/




Tiger Army setlist for OCtoberflame 3:
Prelude: Call of the Ghost Tigers
Towards Destiny
Hotprowl
Atomic
Santa Carla Twilight
Afterworld
Temptation
Through the Darkness (which Nick dedicated to his mom who was there)
Pain
Rose of the Devils Garden
True Romance
FTW
Forever Fades Away
Ghosts of Memory

Encore:
Hechizo De Amor
Twenty Flight Rock
Never Die
Under Saturn's Shadow

This encore was amazing. Alain Whyte from Morrissey's band came out to play guitar for the encore on Hechizo De Amor and twenty Flight Rock (more traditional rockabilly style than Tiger Army usually plays it). Nick 13 had quickly changed backstage & came back out wearing a suit and I realized it was the first time I'd ever seen him singing at a TA show without holding his guitar and we got to see him do his little Moz dance and swing the mike cord around and make all the ladies in the front swoon. It was amazing!
There's a little bit of it on youtube - http://www.youtube.com/watch?v=ia2Y0pCse7A

Pix for night 3 here: http://www.flickr.com/photos/sistinas138/sets/72157608884952520/

October 26 –

Did some more shopping, in the early afternoon we headed over to Fullerton & found Nothing Shocking where I got a neat sterling silver necklace by Femme Metale of two tattoo flash style panthers plus checked out a cool goth shop next to it & got some stickers there. And stopped in to Classic Tattoo next door to show Jennifer the place as it looks like an old vintage tattoo parlor full of classic flash – got to talking with the artists there & they told us how Tiger Army had once played a show in the shop for the old owner (Eric Masske)'s birthday – they were nice enough to email me a photo from it!

First up that night were Creature Feature who obviously grew up on all the same pop culture we did. I gotta have a soft spot in my heart for any band that opens with the Munster's theme song & dedicates a song based on the Gashleycrumb Tinies to Edward Gorey. Pix here: http://www.flickr.com/photos/sistinas138/sets/72157608778654849/

Next up were the Guana Batz who are always tons of fun, Pip is a regular comedian and really quick witted. He saw Jeff's hand tattoos & couldn't resist commenting on "a young guy marking himself up like that – unemployable!" Fun set including a bunch of covers like Zepp's "Rock and Roll" and Bruce Springsteen's "I'm On Fire". Pix here: http://www.flickr.com/photos/sistinas138/sets/72157608774395368/

That night was a particularly special Tiger Army show in honor of the 9th anniversary of their first album as James took the night off & was temporarily replaced by none other than Adam Carson of AFI on drums. In honor of Adam being there they played the whole first album and EP – wow!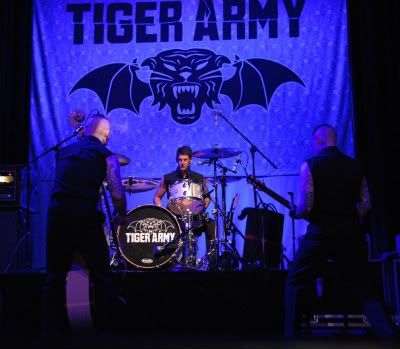 Setlist for Tiger Army OCtoberflame 4:
Prelude: Nightfall
Nocturnal
Jungle Cat
Moonlite Dreams
Devil Girl
Twenty Flight Rock
Fog Surrounds
Temptation
Outlaw Heart
American Nightmare
Neobamboom
True Romance
F.T.W.
Trance

Encore:
Never Die
WereCat
Last Night

Neobamboom is one that had NEVER been played live before! (that had been a discussion a few years ago on the ghosttigers forum, as were the lyrics a sthey mysteriously do not appear on the lyrics sheet. Thankfully there was a printout on stage that got passed down into th ecrowd and I got a photo so I have the "official" ones now to post!

It was also the first time I'd ever gotten to hear Last Night which is one of my favorites (inspired my armband tattoo of 13 black roses)

Wow. Wow. Wow. Pix from show here: http://www.flickr.com/photos/sistinas138/sets/72157608893306898/

Afterwards Adam was hanging out in the parking lot so got to say hi and ask some geeky Tiger Army fan questions about lineups, it was also great to see my friends Stacie and Sonia there, I'd briefly run into them a few nights before but had more time to chat this time.

Now to head up to Hollywood for a few days and come back down for Halloween and the fifth and final night of OCtoberflame!