October 27 –

Checked out of the Hilton Suites & dropped Misery off at the bus station in Orange, then we drove up to Hollywood. Stopped for lunch at California Vegan and the first person I ran into was my friend Mark who came over & gave me a big hug, hadn't seen him in over a year since the AFI troubadour show! Got to see his Star Wars sleeve in progress & his cool leg tattoo that is shush a big secret for now but will be shown soon on LA Ink!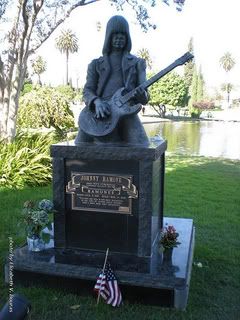 It was too early to check into the hotel yet so we drove around, stopped at Hollywood Forever cemetery and paid our respects to Johnny Ramone and took a zillion photos of the sad little children's graves all decorated for Halloween until security told me to leave as it was private property. Whoops! Got a bit lost in Beverly Hills & called Paula for the addy of Jay and Bob's Secret Stash that I remembered being in Westwood and big surprise, it wasn't me misremembering but it had moved! Sadly no where near as cool as the Red Bank location but they do have Bartleby's cut wings from Dogma…

Headed back to our hotel, the Hollywood Orchid Suites that I found from recommendations on AAA and Trip Advisory – man talk about LOCATION LOCATION LOCATION! It is literally right behind the Hollywood & Highland complex a few steps from the Renaissance Hotel and about a quarter of the price - $99 a night (AAA rate) including free parking and a kitchenette and free wifi, it's a small hotel converted from an old apartment building, not too fancy but more than adequate with comfy beds & a good vibe and so convenient to everything! And for the sake of amusement, all the parking spaces were marked with the names of various actors & actresses so we made a point to park by the coolest that were open and scored "Harrison Ford" one night and "Nicholas Cage" the next. "Samuel L Jackson" was always taken until we were checking out.

We hung out with my friend Kristen that evening and went down to Swingers for dinner, then got to see the awesome house near the Beverly Center & the Grove she is sharing with some friends. She ended up coming back with us & we had a girl's slumber party - thankfully Jennifer had some extra PJs to share as she's just gotten a set of the awesome Nick & Nora Sugar Skull ones at Target after seeing mine (and I picked up the matching slippers that look like pirate skulls with little crossbones behind them). Kristen is looking awesome, she's been doing a lot of rockabilly pinup modeling lately, she is incredibly photogenic.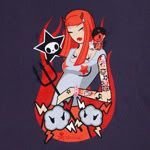 October 28 –

A hard day shopping….. discovered a slew of cool Japanese stores near the 405/Culver City including Happy Six which is home of all things Tokidoki (got cool shirt with devil girl on it shown here and Jennifer got 2 concerto punk bags) as well as 2 Giant Robot stores.

Then off to Melrose Ave & we hit up Kid Robot, Paul Frank, Tarina Tarrantino, Necromance, Japan LA, Munky King, Posers, Shrine and tons more I don't even remember the names of.

Then we had a late lunch at Toi on Sunset for some most excellent Thai food (Tom Ka Gai = happy liz!!!) & a quick stop in Meltdown comics across the street where I found a potentially dangerous book called "Tokyo Underground" listing every toy store in Tokyo with maps and directions and hours listed. I WILL get there eventually! And across the street at Popkiller I picked up what I call my "Otaku Fanboy" ring – silver with a rising sun enameled on it & "Made in Japan" written on the sides.

Back to the hotel for a bit, then across Hollywood Blvd to watch Alkaline Trio tape the Jimmy Kimmel show! Here is the funny thing – we actually put in for these tickets months in advance knowing we would be free that night and thinking it would be cool to see them tape Kimmel and what the hey maybe a good band would be on – I was blown away by our good luck when I found out one of my favorite bands would be on that night!

It was a mini concert so they only did 5 songs but was still fun to watch, even though a lot of folks were in line before us we still ended up in the 2nd row right in front of Matt Skiba. – they taped "Calling all Skeletons" and "In Vein" off the new album for the show & then did a few more for the fans – "Private Eye", "Love Love Kiss Kiss" and "This Could Be Love". Check it out on youtube!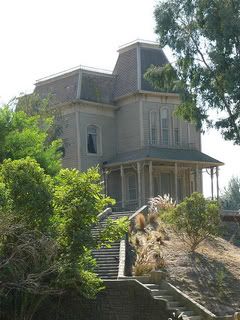 October 29 –

Got up early & took the metro one stop north to Universal City & caught the tram to Universal Studios – met up with Paulina and first stop was the Simpson's ride! so cool we immediately did it again!

Also did the studio tour of the back lot via tram and got to see the original Psycho House, the Bates Motel, Alfred Hitchcock's old office, the pond where they filmed some of "Creature from the Black Lagoon" and Skull Island from King Kong.

Also did the Mummy & Jurassic Park rides and walked thru the "House of Horrors" haunted house thingie and did the Terminator presentation, also a very special treat was seeing the display of props and masks from Guillermo Del Toro's Hellboy II! I lust after the cool Angel of Death maquette – I wonder if it is the same one that Gentle Giant is bringing out….

Sadly we were unable to get tix for the night time "Halloween Horror Nights" as they were sold out but got to see many of their ghoulish decorations

After coming back from Universal, we met up with my friend Stacie and went out to eat at the 101 Coffee shop on Franklin and had a chance to catch up as I hadn't seen her in ages, so glad I had time to hang out with so many friends on this trip!