October 30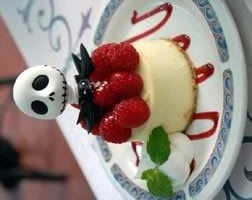 Checked out of the Hollywood Orchid Suites early in the AM & drove down to Anaheim, stopped at a post office & mailed home 2 boxes of stuff I bought along with some of my laundry so I wouldn't need to check a 2nd suitcase since Delta wanted $50 for a 2nd bag.

Then headed to Disneyland, got there shortly after opening – first up visited the Haunted Mansion which for the month of October becomes the "Haunted Mansion Holiday" and is totally redone Nightmare Before Christmas/Tim Burton style. Whoo hoo!!! The folks at Disney really knock themselves out decorating for Halloween, no detail is too small. I was gaga just at all the Burtonesque decorations in the restaurant and splurged on a piece of cheesecake with a marzipan Jack Skellington head & black bat bow tie.

Did that many times, also rode on the Indian Jones ride, the Pirates of the carribean ride, the monorail and visited the Enchanted Tiki room as well as many gift shops, my favorite of which, "Le Bat en Rouge" is ALL Nightmare stuff. I got a neat NBC charm bracelet with about 30 little enamed charms on it of all the characters. Soooo much cool swag, so little $$!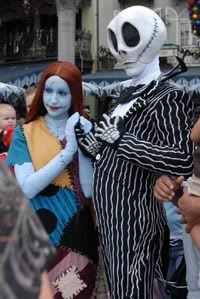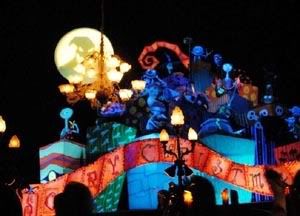 Pix-

Misc Disneyland: http://www.flickr.com/photos/sistinas138/sets/72157608781630059/

Haunted Mansion: http://www.flickr.com/photos/sistinas138/sets/72157608777777400/

Pirates of the Carribean & Enchanted Tiki Room: http://www.flickr.com/photos/sistinas138/sets/72157608777916586/

From Disneyland went to our hotel to check in – another awesome Hotwire bargain – for $65 a night we got the Anaheim Hilton near Harbor Blvd & Katella Ave. Its a huge hotel, reminds me of the behemoths in Las Vegas, but quite swanky with huge flatscreen TV & OMG the most comfortable beds. ever. Whish is a good thing as I needed whatever sleep I could get as I was running on so little.

After a quick freshening up we headed back over to Downtown Disney as the Damned were playing at the House of Blues with the Adolescents. Poor Jennifer had put off buying a ticket (thinking it was at the Grove and she could pick one up at one of the TA shows) and unfortunately it was sold out but she was willing to hang out in Downtown Disney where there's lots of stuff open anyhow while I caught the show. I missed whatever band was 3rd on the bill but arrived just as the Adolescents were starting. Ran into my dear friend Louie Bones and it was great to chat with him, then the Damned came on & it was cool to hear some of their new material live. Picked up an advance promo coopy of their forthcoing CD (So who's Paranoid? due out Nov 16th) autographed by all for only $10 and an awesome T shirt with art by Vince Ray.

By then I was ready to crash! Back to the Hilton and I think I passed out upon hitting the pillow. What a wonderful bed!


October 31 -
Got up early-ish and picked up Misery at the bus stop in Orange, she'd returned to reuinite the tag team photographers! We met up with Jeff and a friend of his at Native Foods in Costa Mesa for lunch & then headed up to the venue to get in line early as it would be our last nite to hang out with everybody.

First up that night were 12 Step Rebels, it was great to see them again as it had been over a year since I'd caught them in San Antonio with Zombie Ghost Train!! Had seen Nate more recently with his other band The Doomsdayers out of Philadelphia who I caught a few weeks ago opening for the Koffin Kats, the new 12 Step drummer is Pat who also plays for the Doomsdayers. (Now if Jake would just move east we could finally have a great psychobilly on the east coast!)
Pix here: http://www.flickr.com/photos/sistinas138/sets/72157608771233345/

Next up were The Quakes who I was very excited to finally see as I've been listening to them for years but never had a chance to see them live. They were awesome and I hadn't realized how much they mixed up with old '80s new wave classics and being the 80s junkie that I am I totally loved their show!

Pix here- http://www.flickr.com/photos/sistinas138/sets/72157608768424938/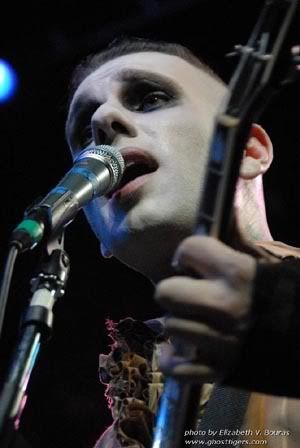 Tiger Army hit the stage decked out in makeup like they used in their "Incorporeal" video making them pale & dead looking. A couple of the songs that night were great surprizes like their cover of the Misfits classic "Horror Hotel" which Louie had told me they used to play back in the early days (gotta have some 'Fits for Halloween!) plus for their ending song they performed the amazing "Sea of Fire" for the first time ever. Absolutely amazing show, if its the last one for a while, it was a great note to end on for this chapter.

And also amazing to realize it was exactly my 100th Tiger Army show, hard to believe I'd hit that big round # in such a place on such a date. (I mentioned it to Nick after the show & he even mentioned it on his myspace blog) Considering its been just 5 years since I first saw them (11/13/03 in Philadelphia, PA @ the Electric Factory opening for Rancid) it has been an amazing a life-changing 5 years. So much has happened since - I've gotten into back into photography (with just a little initial encouragement from Nick 13, little does he know) and all the incredible people I have met including some of my closest friends and the other bands I love dearly that I otherwise probably wouldn't have discovered otherwise like Zombie Ghost Train & all the places I have been, I don't regret any of it!

Tiger Army setlist for OCtoberflame 5 - Halloween!

Prelude: Signal Return
Afterworld
When Night Comes Down
GhostFire
Devil Girl
Horror Hotel
LunaTone
Valley of Dreams
Cupid's Victim
Hotprowl
Pain
Rose of the Devil's Garden
F.T.W.
Forever Fades Away
Swift Silent Deadly
Incorporeal
Never Die
Sea of Fire

Pix here: http://www.flickr.com/photos/sistinas138/sets/72157608791419183/

After the show I went out into the lobby & got to meet Nick Feratu (a/k/a
beatnick138 from the Limit Club who was kind enough to introduce me to Paul Roman from the Quakes as Nick was working the show as his guitar tech as well as Juan (
s14atdi) who drums for both the Quakes and the Limit Club. Also got a chance to hang out with my buddies from 12 Step Rebels!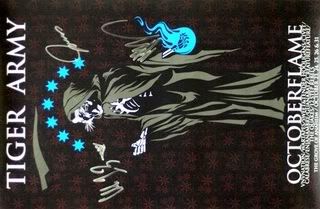 Then I wandered over to where the Tiger Army VIP Meet & Greet that had started. For this series of shows Tiger Army had done a very cool thing & sold a limited bumber (250) of 5-day passes good for all shows for $100 which was an especially good deal when you figured that you wouldn't have to pay ticketmaster charges on all those shows separately. The VIP pass holders got in first each night from a special line and also were invited to a special meet & greet after the Halloween show where they'd get a limited poster designed by Linas Garsys. I thought this was an especially cool way to reward the uber dedicated fans who'd come to all shows (and being as how the band had gone so far out of their way to vary the setlist & play different songs each night it would have hurt to miss any!!) Itw as also a cool way to guarantee to meet them if you hadn't, they don't hang out as much as many other bands as Nick is rather withdrawn so for many it was a rare chance. I'm sure the band would have loved to meet everybody but you can only do so much so I think this was a fair way to limit things.

Here is Jeff with Tiger Army: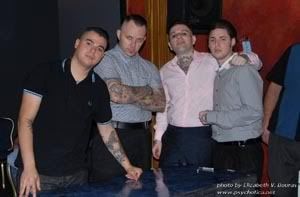 Pix from the VIP Meet & Greet - http://www.flickr.com/photos/sistinas138/sets/72157608790847055/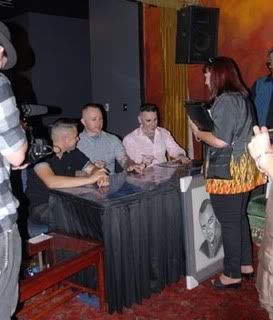 Janice is an AMAZING artist who specializes in very detailed pencil portraits. She did a stunning one of Geoff for him but first she showed him a print that she asked him to sign & then whipped out the real deal in a huge custom frame and completely took him by surprize!

After the meet & greet a bunch of up decided to head out for a bite to eat & met at the Norm's coffee shop up further on Katella and had way too much fun hanging out & partying until the wee hours. Nobody wanted to leave, we had all gotten so used to hanging out together at the 5 shows! I sure hope there will be another OCtoberflame next year!!!

Here we all are at Norm's - left to right - Jeff, Laura, Cale, Paulina, Alex, Rachel (partially hidden), Ashley, ?, Misery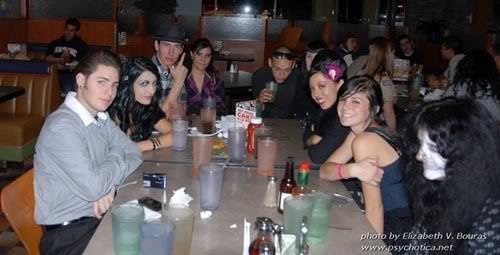 November 1 -

Checked out of the hotel in the AM, brought Misery back to the bus station & Jennifer and I headed off to the airport to (sniff) return my little white sports car. We flew home, caught our connecting flight in Atlanta on time and returned to DCA bushed & thankfully I had enough money left to take the super shuttle home rather than metro/bus it. Want to sleep for a week!