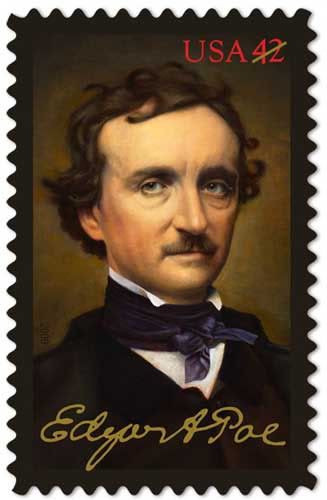 Today marks the 200th anniversary of the birth of Edgar Allen Poe and there will be lots of special activities this year to commemorate him including this wonderful postage stamp that was issued last week! ( will have to stock up on these!)

The city of Baltimore has a ton of cool events scheduled for 2009 - full listings online here:
www.nevermore2009.com and www.poebicentennial.com

Since February 1st is
kisarazumama's birthday, we have gotten tickets for that date for the Poe Bicentennial Birthday Celebration on that date featuring a tribute to Poe by John Astin, best known for playing Gomez Addams on the Addams family and readings of "Hop Frog" and "the Tell Tale Heart". Tix are still available for Feb 1st should you like to join us! (
strangemuses, I have yours!)

We are also planning on heading up on October 10th for this:
POE'S FUNERAL SERVICE - A horse-drawn funeral hearse will bring Poe's body from his home on Amity Street to the Westminster Hall for burial services. A drum and fife corps will lead the procession. The funeral service will include musical selections performed by a pianist, soloist, violinist and a choir. Guest speakers will include five people who knew Poe, "legacies" such as "Alfred Hitchcock," "Sir Arthur Conan Doyle," "Charles Baudelaire" and "H. G. Wells" will present eulogies. Invited representatives from the literary, stage and movie industries will present their own eulogies for Poe. Tributes from ambassadors from many countries will also be read. Additional information to be announced.

and...
October 4, 2009 – January 17, 2010
The Baltimore Museum of Art
ART OF DARKNESS: INSPIRED BY POE
The Baltimore Museum of Art presents a dramatic exhibition of works by some of the greatest artists of the 19th and 20th centuries who were inspired by Edgar Allan Poe's chilling and unforgettable tales. Drawn largely from the BMA's renowned collection, these rarely seen prints, drawings, and illustrated books explore the enduring legacy of Poe's uniquely dark fiction on modern artists. Included in the exhibition are vivid illustrations for The Raven by Edouard Manet and a haunting portrait of Poe by Henri Matisse. The exhibition also features works by contemporary artists from Maryland responding to the universal themes taken up in Poe's poems and stories—love, loss, silence, obsession, and terror. Film screenings, performances, and writing and poetry workshops will complement the exhibition.

Yay to Baltimore to honoring one of their most famous residents and going all out, I gotta say even to I have no interest in sports whatsoever if I ever had to back a football team it would have to be the Ravens just for being cool enough to take their name from his famous poem (plus their colors are black & purple!)


The Baltimore Sun has an interview with John Astin about Poe:
http://www.baltimoresun.com/entertainment/booksmags/bal-al.poe18jan18,0,5476622.story

And of course the "Poe Toaster" struck again early this morning.