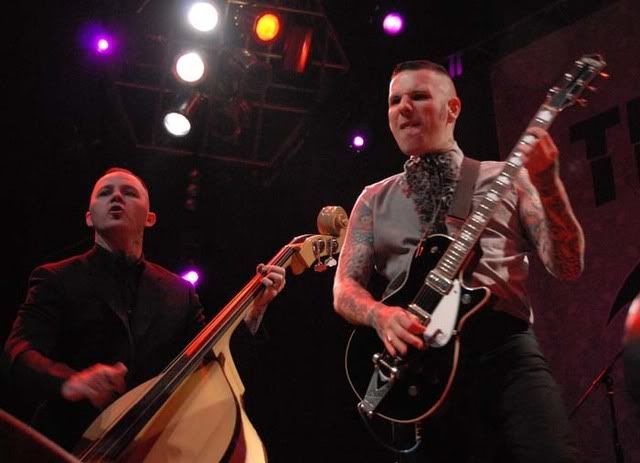 Still in Las Vegas, having a total blast with my friends, sooooo good to run into so many last night (Adam, Steve, Albert & Jessika, Eric Razo) & hang out a bit afterwards with James and Geoff and Kamilla. The Tiger Army show was great aside from the disappointment that the Stellar Corpses didn't get to play - the HOB totally fucked them in sending them an itinerary telling them their load in was at 6:30 PM and they'd be on at 8:30 when in reality the freaking DOORS opened at 5:30 PM. They were really disappointed (Emilio is a friend of mine and had been really looking forward to the show) & so they were totally shafted, at least the club admitted they'd messed up & paid them so it wasn't a total loss.

So instead only Frenzy opened but they were fantastic, had never gotten a chance to see them before but probably will again soon as they are playing the Ink-N-Iron fest in Long Beach in early June along with Batmobile, the Peacocks, the Koffin Kats, the Henchmen etc so thinking hard about coming for that(plus - hey, TATTOOS!!!!)

Tiger Army were greart, lighting was pretty bright for once there so I think I got some good shots, have only looked thru one card so far but posting a few below, will put up lots more when I get home. And holy moley what an encore - Nick 13 gave a little tribute to the sadly missed Lux Interior of the Cramps who passed away a few weeks back and in memory of them TA covered the Cramps' "Some New Kind of Kick" (with Geoff on a "regular" electric bass since the Cramps never used an upright one), then did Never Die followed by Sea of Fire (only the 2nd time EVER played live, the first time last Oct in anaheim for OCtoberflame), and then "Under Saturns Shadow". Wow...just wow.... if this was the only TA show for a while it was great one! Nick promises another OCtoberflame later this year - in Orange County AND LA this time :)

Afterwards caught up with many friends I didn't know who would be there, hung out some with Emilio who introduced me to the rest of Stellar Corpses (who I must get a chance to see soon!!!) & then we hung out in the Mandalay Bay's Raffles Cafe until the wee hours of the morning swapping all kinds of crazy stories (there must be some ears burning today!!)

Prolly heading over to VLV today for some SHOPPING!! And Penn & Teller tonight - woot!