start of the Tiger Army 2007 "Razor's Kiss Tour" - Ventura Sept 21, 2007
: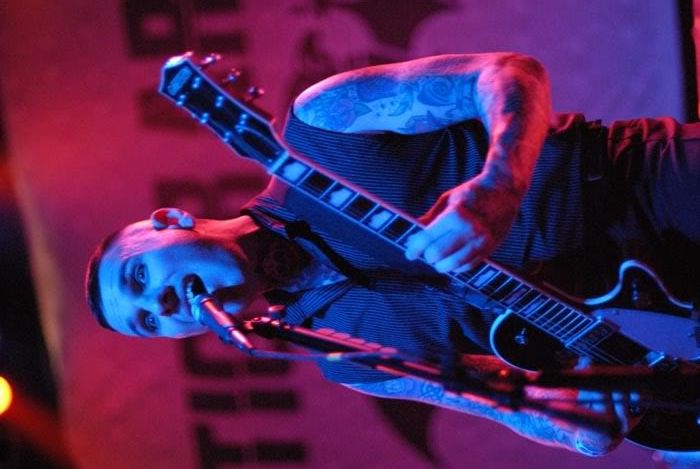 So Thursday night I arrived at LAX, picked up my rental car (I hate those Dodge Calibers because they have awful blindspots in thecback but its still better than the minivan they tried to pass off as an economy car!) and headed on up to Ventura so I could sleep in. Or at least try, still having some serious insomnia issues :(
Relaxed as best I could Friday AM/afternoon & then headed into downtown Ventura, cool little town with lots of neat shops & art galleries & antiques store. Said hi to Albert and got in line, met some cool folks & talked music. Since I was really beat I decided ot to try stay up front the whole night & just opted to go in between the stage & the barrier for photos for the first 3 songs of each band.
Imperative Reaction were up first, my 2nd time seeing them (they'd opened for Tiger Army at one of the Anaheim shows in Feb 2006) and I really enjoyed their set, got some good pix I'll have to post later as they are still on my laptop as LaQuinta's wireless kept going down so I didn't get them uploaded... Followed up by the Street Dogs (again have seen them open for TA before in the summer of 2005)
Finally time for Tiger Army - the opening night of their "Razor's Kiss" 2007 headlining club tour.
They have a new backdrop on the stage with a giant Tigerbat against the "wallpaper" off the new album. The setlist was a great mix of old and new, of the new songs I was especially delighted that they played "Pain" which is particularly beautiful. Also to treat to hear "Trance" for the first time in 4 years so I was very happy to hear that one again - the last time I'd heard it was back at the Agora in Cleveland in November of 2003 when they were opening for Rancid! :)
For the encore they did a very cool thing ,when they came back on they started with the opener for TAIII/Ghost Tigers Rise and then went from that into "Toward's Destiny", followed by "Forever Fades Away"
Setlist:
Prelude: Signal Return
Hotprowl
True Romance
Ghostfire
Valley of Dreams
Afterworld
Rose of the Devil's Garden
Power of Moonlite
Pain
F.T.W.
LunaTone
Trance
Cupid's Victom
Nocturnal
Never Die
Encore:
Prelude: Call of the Ghost Tigers/Towards Destiny
Forever Fades Away
(
Collapse
)
Current Mood:
nostalgic