I miss you already Kristen
: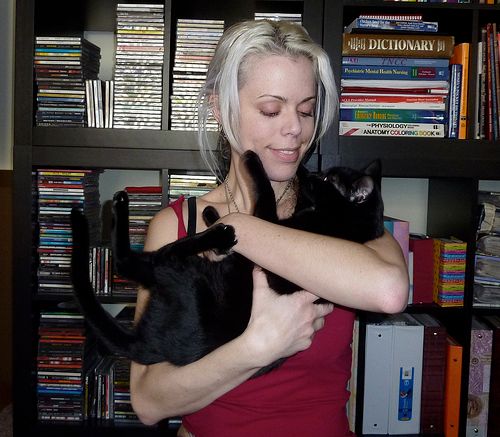 Yesterday I came home from work to find two emails letting me know that one of my dearest friends had taken her own life which left me devastated. Another link now shattered in my small circle of friends, the fourth I have lost in the last few years. It has shaken me badly and reinforced how fleeting and temporary this mortal coil is, we need to live each day to the fullest and appreciate what is in the here & now for tomorrow might be too late. Carrie, Jeannette, Kristen and especially Judy, I miss you all more than you can imagine.
I met Kristen back in 1995 when my merry pack of friends frequently road tripped to many Marilyn Manson and Psychotica shows. Kristen was our little "pixie girl" with pink hair and a huge smile, always cheerful and full of energy. She lived in northern New Jersey near NYC and often let us crash at her house when we drove up to New York for shows or to hang out at Squeeze Box.
We travelled together on road trips all over the east coast & Midwest – Massachusetts, Ohio, Erie PA, West Virginia. A bunch of us with all travel together & split a cheap motel, often Red Roof or Motel 6 (which we nicknamed "Chez Liz" since I was usually the "tour director") I remember on weekend trips when everybody else would be asleep in the motel and Kristen would get up first thing in the morning to do her running, no matter where she was, she always kept in incredible shape. Later after she'd moved to LA she was always going to the gym & various ballet & fitness classes.
Kristen went to nursing school & got her R.N. – she dreamed of working in the emergency room and after moving to California & moving through several hospitals working for a contracting firm she got a great job at the ER at Cedars Sinai, one of the top hospitals in the country. Heard lots of crazy stories of what went on there (I guess the staff were very familiar with David Hasselhoff, she also told me about the time she had to call Courtney Love for permission to do a test for Frances Bean Cobain!) I really admired her for working so hard for her degree and achieving a good career helping people.
Kristen moved out west in the fall of 2004 – she stopped at my old apartment in Gaithersburg on the way out along with her mom who was helping Kristen drive her huge tank of a car cross country. Her mom (also a nurse) had never been outside of NJ and was excited as it was the first day she'd ever pumped gas herself since NJ is all self serve. (The silly things that stick with you). We all went out for Thai food and wished them the best.
In late November 2004 I visited for a week – Tiger Army was doing a string of shows at the Wiltern Theater opening for Social Distortion and Kristen invited me to stay at her apartment so I could go to all the shows. She had an awesome pad in West Hollywood on North Palm Avenue that ran between Sunset Blvd and Santa Monica Blvd. The first night we were there we walked up to Sunset Blvd and ate the Rainbow and she pointed out all the famous clubs around the corner like the Whiskey A Go Go, the Roxy, the Viper Room and the Key Club. We ate at the Rainbow many times and every time we went there we ran into Lemmy from Motorhead just hanging around ... unbelievable! I guess he is a fixture there and lives nearby.
Kristen had a busy work schedule but still was able to come with me to a couple of the shows & I teased her mercilessly because she had a huge crush on Mike Ness from Social D so we always called him her "baby daddy". On Thanksgiving she took me to the hip little diner Swingers on Beverly Blvd for the first of many times & I enjoyed my turkey dinner with her, it will always be one of my most memorable Thanksgivings and I think likewise she was happy to share it with a friend since it was her first T'day so far from home. She showed me a lot of cool sites around town & we went shopping on Melrose.
Since then I've visited her several times a year on my many trips to the west coast and we were always in touch by phone or email. Sometimes her schedule was so hectic we couldn't meet up when I was out & we just chatted by phone, but whenever possible we'd get together even just for lunch or a little shopping.
The last time I saw her was last October when I was on my annual "Halloween time vacation". Jennifer and I were in LA, we went over to her new apartment (now just around the corner from Swingers where we had lunch) and I got to meet her two new kittens, R2 and D2. Kristen had always been a huge Star Wars fan so I thought the names were really cute. R2 was the little black girl cat and D2 the bigger white and grey boy cat. We played with the kitties and I took many silly pictures of them chasing strings and it was evident how much she dearly loved them & we joked about the bunch of us becoming "crazy old cat ladies". I tried to talk her into coming with Jennifer and me to the Universal Studios Halloween Horror night but she couldn't make it.
Kristen was the prettiest girl I ever knew, model pretty. She had a beautiful face with bright large eyes and full lips and just glowed from within. She reminded me a bit of Nicole Kidman although I honestly thought Kristen was prettier.
It was obvious, she had many famous photographers ask her to model for them including John Santerineross and Jeffrey Scott. Once she told me Dean Karr had asked her to pose for him but I'm not sure if she ever did. The first serious modeling she did was for John Santerineross back when she was still in New Jersey and she was hesitant to even tell me about it since she had posed nude and I think she was afraid I might think less of her but I reassured her that this was museum worthy art, not "porn". Several photos of her appear in his book "Dreams". John had been her landlord at the time, she rented an apartment above his studio in Kearny & also right across the hallway from Empire Hideous and former Misfits singer Myke Hideous who she introduced me to.
After moving to LA she did a lot of glamour and pinup and rockabilly type modeling, she was always sending me links to photos on her facebook and myspace which unfortunately she apparently deleted but I found her portfolio still up on Model Mayhem, her modeling name was "Nurse Krissa Amore" -
http://www.modelmayhem.com/1381365
One of the shoots she was most excited about was the one where she was made up like a zombie as she loved horror movies & horrorpunk like the Misfits etc.
She had an "old school tattoo" of roses and the word "Amore" on her back among her many tattoos (her first was of a pixie, we always called her "Pixie Girl")
She liked to pose in "Sexy nurse" costumes which was funny since she really was an R.N., we made a lot of Animaniacs "Hellooooooo Nurse" jokes. She would dress up in wonderfully crazy Halloween costumes, I think the best was her "Princess Leia in her slave outfit" since she was such a huge Star Wars fan (and one of the few girls I know who could successfully pull off that outfit!)
Her YouTube channel is still up with some cute videos of her kitties-
http://www.youtube.com/user/NurseKrissaAmore
I started a gallery of photos of her on my flickr, I put up some of the most recent ones, need to hunt down some earlier ones I will add. I'm glad I always had my camera, at least I have many great photos to go with the awesome memories I will treasure forever. We had an awful lot of good times.
http://www.flickr.com/photos/sistinas138/sets/72157626313377241/
So many memories, so many stories.
I'll never forget her telling me so many stories about her longtime friendship with Maynard James Keenan of Tool who she always just referred to as "Jimmy Joe". She showed me pix of her visit to his house in Arizona and his vineyards & silly pictures of him making breakfast, just like anybody. When she first moved to LA he was one of the only people out there she knew already.
I'll never forget her phone calls when she was hanging around with Anton LaVey's grandson who sounds like quite a character, or how Ginger the drummer from Marilyn Manson had a huge crush on her, or about her visiting the Family Guy office after being invited by the boyfriend of one of her patients and getting a script autographed by Seth MacFarland. He even drew a little "Stewie" on it. Or her picking me up at the airport one night & telling me I just had to see this new TV show called "True Blood" and we got Chinese takeout & went back to her place and watched it on demand. (I'm now a huge fan).
I'll never forget going to the Grove to see Episode 3 (a.k.a Revenge of the Sith) which had just come out a day or two before but she's already seen it 5 or 6 times but was eager to go again. I'll always think of her when I see anything Star Wars related. When I was packing to move and felt overwhelmed with all the toys I boxed up many of my Star Wars toys and sent them to her & she was delighted to get them totally out of the blue. When I got my new cell phone which is a 'droid I programmed it to make R2D2 noises when I get a text or email and couldn't wait to tell Kristen because I knew she'd appreciate the silliness.
I'll never forget meeting up with her in Las Vegas, I was there to see Tiger Army, she'd come out with a few friends to see My Chemical Romance. She always called Gerard Way "Pedro". We stayed at the El Cortez near Freemont Street which was actually pretty nice.
Kristen loved to travel and always sent me photos - she visited Japan, Australia (had a great picture holding a Koala!), went swimming with dolphins in Mexico and visited Hawaii several times. I know she really loved Hawaii and thought about moving there, I told her with a career as a nurse she could probably get a good job anywhere.
Kristin's photos from Australia
http://share.shutterfly.com/share/received/welcome.sfly?fid=a20fb484d5154705&sid=8AasWTdy5bNWO_
Kristin's photos from Hawaii
http://share.shutterfly.com/share/received/welcome.sfly?fid=94fa63de0a9a12b4&sid=8AasWTdy5bNWYQ
I only sorry she won't be there for those dreams, at least she lived an interesting vibrant life with more packed into it than many do with more decades. I wish I could understand what happened but you can't get inside somebody else's head.

"You get what everyone gets, you get a lifetime."
– Neil Gaiman
Current Mood:
crushed