Spring and better weather approaches (at least until yesterday, sigh).... finally pulling out of the winter doldrums, a firm believer in seasonal affective disorder (on top of just "normal" depression)

Friday - after work caught Rango at the Movie Theater at Montgomery Mall - yay for the Groupons that
kisarazumama & I each bought around Xmas good for unlimited free movies for a year at that theater so can go to the movies anytime, even if we are broke!

Rango is not just a good film, its a good classic Western as well as being deliriously weird and slightly existential with Johnny Depp doing the voice of a Chameleon with issues.... Absolutely loved it!

Luckily went to bed fairly early & then got up early Saturday to drive to the White Marsh mall north of Baltimore to catch the Megabus to NYC with
kisarazumama so we could go see the musical "American Idiot" (based on the Green Day album of that name) on Broadway during the 2 weeks when AFI singer Davey Havok would be playing one of the roles. We had originally planned to take it from DC but I was miffed that after I booked the tickets they moved the bus stop to outside a parking lot half a mile from Union Station and since some of that area can be kinda sketchy I didn't want to be walking around there late at night since the nearest parking was at Union Station itself (and the bus left too early in the AM to take the metro down)

Going out of Baltimore turned out to be fortunous tho as at the bus stop we met a gal wearing a Despair Faction shirt who asked us if we were going up to see American Idiot. She'd seen me pull into the lot and the sheer # of AFI stickers on my car kinda gave me away :) It was great to find another fellow DF'er heading up & we ended up hanging out with her all day & having a wonderful time (she is on LJ as
alice_ash and am happy to meet somebody else in this area who likes the same music & stuff!!!)

Once in NYC we walked up from where the Megabus let is off (around 7th Ave & 28th I think) & were mildly disappointed that the anime shop on 30th street we passed was closed & didn't open until noon :( So we made our way up to the theater district to check out where Americam Idiot would be playing (at the St James, most appropriate as Davey plays a character named St Jimmy!) and a few doors down saw that Discovery was having a huge exhibit of artifacts from Pompeii.... well, you know liz & musuems.... and before you could say "Vesuvius" we were on our way to the exhibit, "Pompeii The Exhibit: Life and Death in the Shadow of Vesuvius")

HIGHLY recommended going if you are in the area. There are some amazing fragments of frescoed wall paintings (I honestly did not realize the ancients had such a good grip on perspective but then how many paintings survived from then???) as well as jewelry, statues and everyday artifacts. Then they herded us into a room which darkened & showed an animation of a timeline, hour by hour of how the volcano erupted & covered the city in thicked ash while the sound effects rumbled and lights blinked... as the ash filled the screen dry ice floated up from the floor and the screen opened into a large darkened room in which sat the famous plaster casts of the pompeiian victims, a very very effective presentation leaving one in stunned silence to see the forms of bodies as they tried to cover their mouths to avoid sufocating, often grasping their loved ones.

How ironic that their total destruction lead to us having the most detailed knowledge of the day-to-day existence in an affluent Roman city.

One of the casts was the famous one of the dog who probably strangled himself on a chain trying to escape that Siouxsie used for a 7" cover to "Cities in Dust"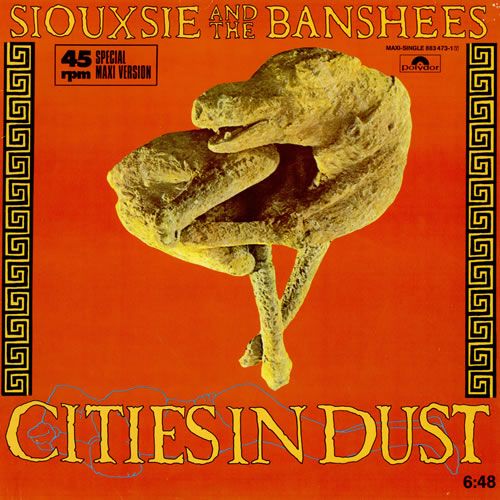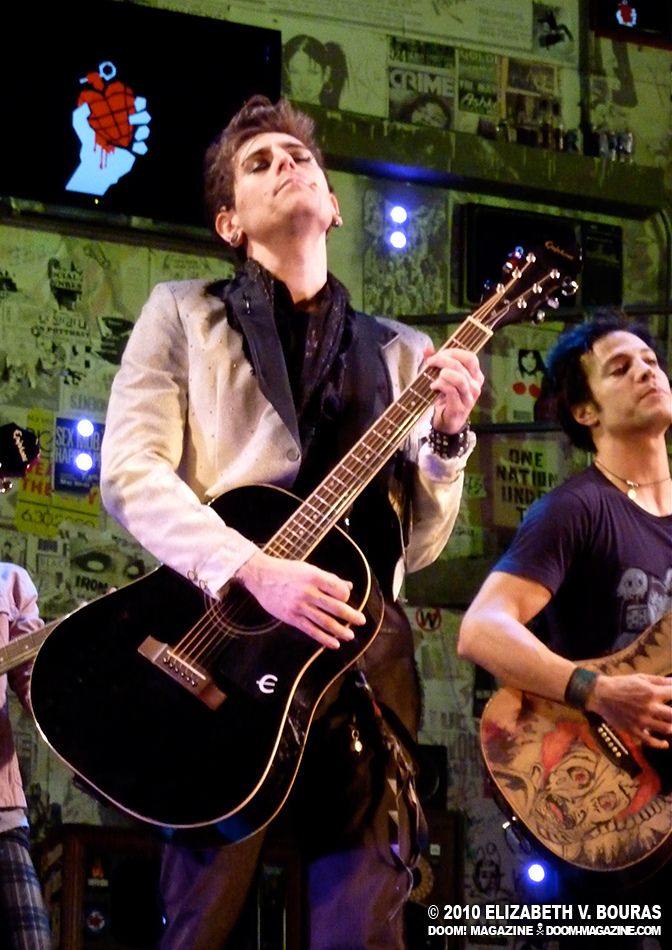 After the Pompeii exhibit there was time to grab a quick lunch at a nearby deli and get in line for American Idiot. I had really lucked out on the tickets as we were in the third row center, meaning the cast were practically in our laps! Enjoyed the play and the cast were great, I thought Davey was positively electric as the devlish tempter St Jimmy and also particularly liked Justin Guarini as Will (had never heard of him before and only found out the next day when I googled him that he'd been on American Idol!)

Check out Paula's wonderful writeup & a gallery of my pix here - http://doom-magazine.com/doom/saint-jimmy-davey-havok-american-idiot-2515
!

After the show we walked downtown & checked out Paul Booth's art gallery/tattoo shop Last Rites which had some very cool paintings. I was especially impressed by the ones by Stephanie Henderson -
http://lastritesgallery.com/shows_henderson.php

They also had an amazing bronze sculpture of "Li" by H.R. Giger that I'd never seen before and were nice enough to let me take some pix :)

Then dinner in a nice classic NY Deli and megabus home!

On Sunday
kisarazumama and I went down to the DC Big Flea market at the Dulles Expo center in Chantilly to pick up my Sylvia Ji "Thunderbird" print from Gizmo's Art that they framed for me.

I've been bringing them my art collection a piece of two at a time and they are doing just amazing work, this one no exception! I left them my new Mark Ryden print ("Yoshi the Forest Spirit") to frame (picked out a lovely burlwood frame for that with green and brown mattes) and my Michael Zulli Salome painting (the one from the center of Neil Gaiman's "Creatures of the Night"cover) which called out for something gold and Art Nouveau-ish.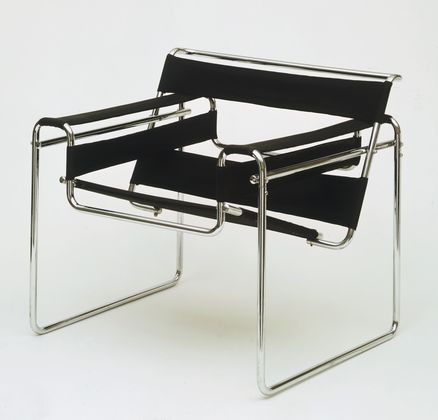 Then I had a WONDERFUL find at the Big Flea, found somebody selling a Marcel Breuer Wassily chair very cheaply, looks to be one of the nicer higher end versions and not the cheap knock offs. My eyes about bugged out of my head when I saw it, didn't have enough $$ on me and they didn't take credit cards but nicely offered to take a check so was able to give them what cash I had & write a check for the rest & do a little happy dance (aside from wrestling it into the backseat of my Hyundai). I have always wanted one of these chairs, prolly since seeing it in the Museum of Modern Art as a teen, IMHO its an iconic example of 20th century Bauhaus design. Gawd I am such an crazy art/design geek!

If I'd had $$$ I would have got in deep d- do over the dealer with the huge collection of Ukiyo-e woodcut prints including a stack (!!!!!) by Yoshitoshi who I am especially fond of. Oh heavy sigh.... They were happy to explain their generous layaway plan....this is dangerous info....

Anyhow am deliriously happy with my chair and once again living up to the stereotype of being the palest honky out there as
kisarazumama and I laugh over the posts on S.W.P.L.