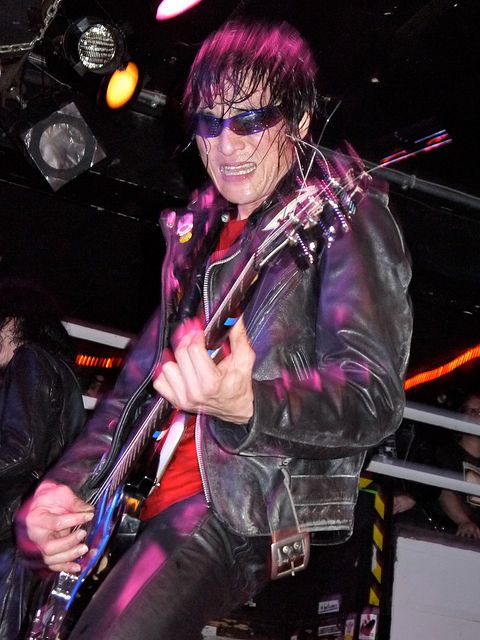 I've actually been kinda busy lately, sometimes I have to push myself to leave the apartment & not just sleep but actually has a whirlwind of activity the last few days!

Friday night I went up to the Ottobar in Baltimore with
kisarazumama and
scarydavedc and caught Japanese garage rock band Guitar Wolf who were truly brilliant. I've decided if Balzac is Japan's answer to the Misfits, then Guitar Wolf is Japan's answer to the Ramones. Have wanted to see them for years and most especially since seeing them in the crazy cult flick "Wild Zero" (where Guitar Wolf save the world from zombies). They got a huge response - the place was packed and it got pretty crazy, the entire floor was moshing, I was right up by the stage & got bowled into a number of times but stlll managed to get some pretty good pix with my micro four thirds, had some fun playing with long exposure/rear curtain sync to try and capture the feel of the show :)

Flickr album here -
Guitar Wolf at the Ottobar - March 30 2012

Sunday night was more Japanese culture that could not have possibly been more different - the most stylized and artificial form of Japanese dance, the Kabuki. I've been wanting to see live kabuki for many years & had been so disappointed when I missed the performances at the Warner Theatre a few years back because tickets were impossibly expensive, but this time we got lucky as Bando Kotoji's troupe was performing at Towson University in conjuction with their Asian Arts center and tickets were only $15!!!
kisarazumama was wonderful enough to get me one!!! It was kind of a drive but well worth it as the dancers were amazing and OMG the costumes - sooooo beautiful!!! What a rare treat!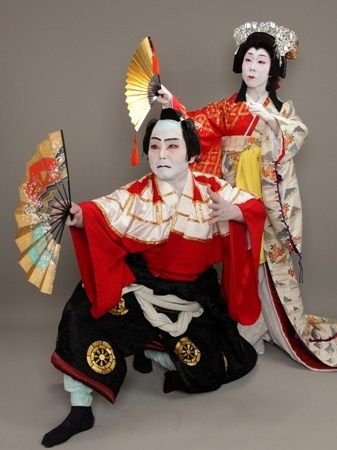 Then last night got to attend an advance screening of the latest from creative geniuses Joss Whedon (Buffy/angel/Firefly/Serenity/Dollhouse/Toy Story 2/Avengers) and Drew Goddard (Cloverfield/Angel/Alias/Buffy/LOST) - "Cabin In The Woods".

I got free tix after reading a post on the @Whedonesque twitter for
kisarazumama and I so we took the metro down to the Regal Cinema at Gallery Place right after work & lined up for a few hours - am glad we got their early as seating was limited and it was in a rather small theater and many of the people in line behind us did not get in. And for a special treat, two of the cast were there to introduce the movie and give a Q&A after wards - Fran Kranz and Kristen Connolly.

It's a wonderfully weird crazy brilliant roller coaster ride of a horror movie. My best advice is try and avoid all spoilersm even avoid the trailer if you can, go in knowing as little as you can for full effect, all I can say is that it is so far past "bunch of teenagers go off to a cabin in the woods and do dumb things" as you can imagine and Joss and Drew have the balls to GO THERE where others would not. Yeah, there's a reason why people say "that character was Jossed". Oh yeah, also a fantastic cameo from one of the most iconic performers in genre films of the last few decades!

The Q&A afterwards was fun & I actually got to briefly meet Fran Kranz which made me really happy as he played my favorite character Topher Brink on the Whedon show Dollhouse and he was nice enough to autograoh my Dollhouse DVD for me! I hope this really helps his career as he was the best character in the movie and poor dude had to wait 3 YEARS for it to be released due to MGM's bankruptcy! Thankfully Lionsgate picked up the release and are putting it out now, hopefully they are flush with bucks from Hunger Games to do some promotion with it. I think what they are doing is very smart - lots of advance screenings to enthusiastic fanboys in cities across the USA who will give lots of word of mouth to their friends & facebook & twitter the hell out of it. I'd like to see it be a big hit, it is actually SMART and WELL WRITTEN which is more than I can say for most horror movies!

And we got swag too - free posters and T shirts - YAY!

Still need to see "Mirror Mirror", even if it is a mess I am nuts for Tarsem's visuals. And jazzed for the upcoming Studio Ghibili/Hayao Miyazaki festival coming to the AFI Silver Theater - yay!!! They will also be doing a Monty Python retrospective - like I keep saying, how lucky am I to have this place nearby!!

Now I just want to sleep for a week!!!