I think I stirred this up last week - I bought a ticket to the megamillion jackpot, it being well worth the dollar to spend a few pleasant hours daydreaming of what I would do with the money....after buying my dream house & various gifts to friends (a new kitchen to one, health care to several others) I thought how I would love to live out my greatest fantasy as a patron of the arts like the famed De Medicis of the Renaissance... I would dearly love to just give my favorite artists a large stipend they could live comfortably off of so that just create, or maybe run a gallery so I could discover and promote new talent (and let's face it, I love imposing my taste on others)

Some of my thoughts must have reverberated thru the cosmos, a few days ago I got an email from the wife of one of my favorite artists, would I be possibly interested in a piece he had? He was short on funds & needs to pay his taxes. This is the artist that would have been #1 on my list to throw $$$ at if I won the lottery, I was just talking about....

The sad fact is that even though this fellow is a great artistic genius, he has trouble making ends meet, he is never compensated anywhere near what he should get for his work. I started collecting it a decade or so ago and was shocked at how little it sold for on ebay - part of me felt like a thief and very guilty for paying so little when I felt they were worth so much more, the other part of me was grateful that even on a secretary's salary I could afford to collect such treasures. I'll be honest and say I've walked through museums and thought to myself that I had equal quality of work hanging on my own walls.

"Of course I would love it", I wrote her, could I send a deposit and pay the rest next week when I get paid? She agreed and I sent a deposit of the remaining $$ I had in my paypal from the sale of some old concert T shirts & I immediately started scheming how I could juggle the rest. I've always thought that where there's a will, there's a way and while I seldom have more than two nickles to rub together as I positively bleed $ and cannot hang on to it, I have resources.

I decided to sell a print by a rising artist as I have several of hers & due to the size would be unlikely to frame this particular one. It was an earlier work of hers in a smaller edition than she issues now so had risen in value and desirability. I posted it to a message board for print collectors that I belong to and in hopes of selling quickly I priced it at what I actually needed rather than what I could reach for, it would help me quickly, I could pay off the painting and somebody would get a nice bargain.

Now it gets weird. Three minutes later I got an email from a person who would like to buy it. Yay! Look at the name and wonder, could it be? The next email confirms, they are an old friend of mine I lost touch with ten years ago who now lives a few miles away from me and has also gotten bitten by the print bug and we happily geek out....

What are the odds? But this is when I know I am doing the right thing and actually feel good about selling this print rather than regretting it. All works out great.

A red death for a red death.....


sold this print....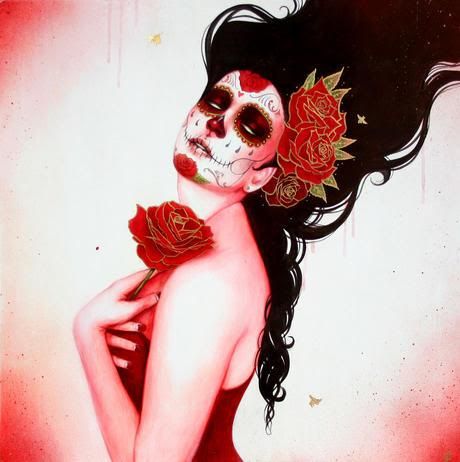 for this painting.....