Art-Gasm!

Had a wonderful day trip to NYC last weekend! I found a really convenient way to go as the Tripper Bus will pick you up in downtown Bethesda and deposit you in front of the post office behind Madison Square Garden in NYC for $27 each way. So, now knowing this I intend to travel up more frequently to check out various gallery and museum shows (gotta catch the Audrey Kawasaki show at Jonathan Levin gallery in September!)

Went up with
strangemuses, our first stop was the Arcadia Fine Arts gallery in SoHo as it was the last day for their Surrealism show. I especially wanted to see this piece by Martin Wittfooth , who is one of my favorite current artists in the pop surrealist field…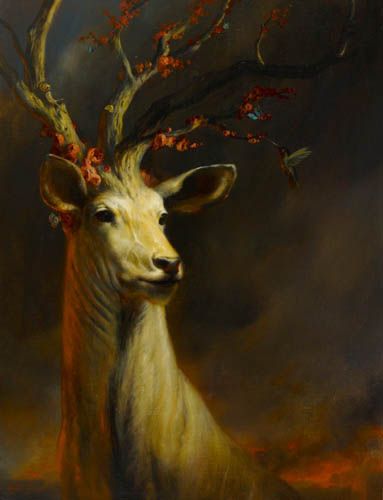 Was greatly amused by this one by John Brosio of giant chickens on the loose….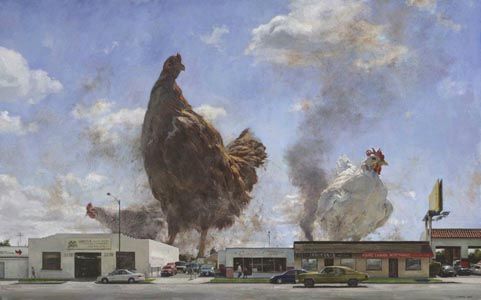 …and Brian Despain's Iron Giant ruled by dark bunny overlord (I am totally making that up)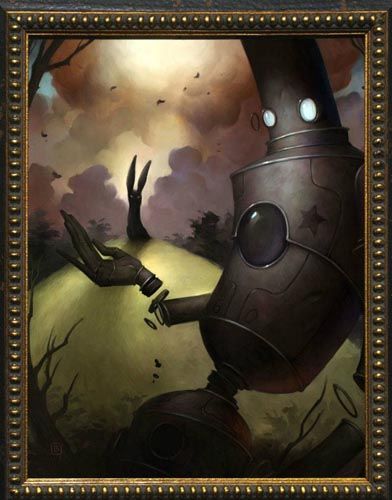 Then we stopped at the Evolution Store which was loaded with cool stuff – skulls and bones, minerals, fossils, weird taxidermy – I was very very tempted by the stuffed two headed bat but made myself resist. Also by cute bat winged mouse angel… Must return with $$$.

We then had a wonderful lunch at Spring Street Natural with a very cute though not especially efficient waiter who looked very much like Desmond from the TV show Lost.

Then we headed uptown on the subway to the Neue Galerie on 5th Avenue – it's a small museum in one of those ostentatious old Fifth Avenue Mansions from the robber baron days to house the German art collection of billionaire collector Ronald Lauder. The pride of his collection is Gustav Klimt's portrait of Adele Bloch-Bauer I that he paid a whopping $135 million for when the former owner (the granddaughter of the woman in the painting) won it after a protracted lawsuit over WWII Nazi loot.

It's very hard to fathom any one object being so valuable but I am glad it is on public display and not socked away in a private collection as I love Klimt's work and was happy to have the chance to see it – until I saw it in person I had no idea how much sculpting was done in the surface of all the patterns in her dress, probably built up in gesso. They also had 6 other Klimt paintings as well as an exhibit of his drawings, an Egon Schiele painting & a nice display of Vienna Secession era decorative arts. Upstairs was a nice photography exhibit of works by Stieglitz and Steichen.

here is Adele holding court at the Neue -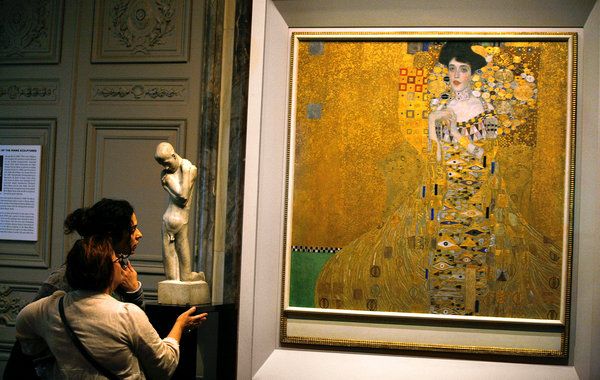 Part II to follow!