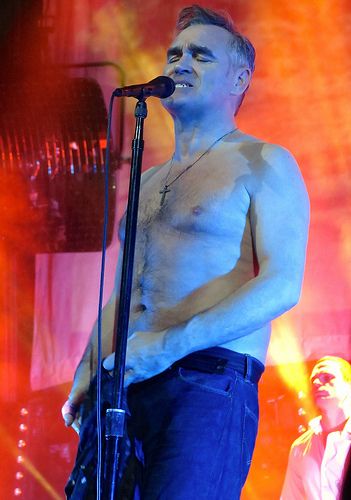 Had a great weekend, quick road trip up to Atlantic City with my friend Jennifer to catch Morrissey at the House of Blues in the Showboat Casino. even though I was still fighting a cold and sore throat I was determined not to miss it as I'd already missed the two NYC shows at Terminal 5 last October when I was sick with bronchitis. He's playing across the street from my pad at Strathmore on Wednesday but that is seated so I wanted a chance to catch a club show. Left at 5 AM, got to the Showboat about 10 and joined the line - we were #21 and 22 on the official line list and at least if you are gonna wait all day its nice to be able to do so indoors with bathrooms and a water fountain a few feet away & lots of food options in the building :) Ate lunch at the House of Blues restaurant to get their "Pass the line" get in first passes, since there were no vegan options and we had to spend $15 each or $30 both for the passes I just had to suffer & order the scrumptious NY strip steak for myself & gave the waiter a nice tip and got two passes.

Waited... and waited.... met a nice couple from the UK who'd flown over to travel to 5 shows and were having a ball & a couple of guys from Philly. Have come to the conclusion that all iPhone users do is worry about all day is not having enough of a charge... meanwhile the battery case I got from Groupon recharged mine handily when the charge wore out - YAY for planning!

Eventually the doors opened around 8....and folks stampeded in while HOB staff told them to walk...so right as I was to go in they held the line and I got to watch the stampeedees take up the barricade space. Damn, so much for waiting 10 hours in line to get on the rail! Ended up in about the third "row" near the center at least behind some short folks tho while Moz was playing the crowd got crazy and I ended up about 4 or 5 rows from the front with tall guys crowding in so I ended up by the middle of the set taking pix more of people's hands and iPhones...

Ah yes, taking pictures.... every other HOB I've been to has been really strict about "no cameras", I assumed they wouldn't allow it but packed my wonderful little G15 in my bag "just in case". Jennifer asked security & they said they were cool as long as no flash - hallelujah! And they never even searched my purse on the way in!

So yeah, BOY did I get pictures, the lighting was fabulous and the photos came out soooo great, I just love this little camera, it is almost as nice as DSLR and sooo handy, up until now I've always been so frustrated when I couldn't bring in a DSLR, am very satisfied with what this does!!

Put up a gallery on flickr -
Morrissey at the HOB Atlantic City Jan 12, 2013

Opening was Kristeen Young, she was actually better than the previous times I've seen her (all opening for Moz, I used to think her sole reason for existance was to annoy Morrissey fans), still think she's a Kate Buch wannabe but at least she's looking to Siouxsie for visuals and I had fun getting some pix of her that I'll post to flickr...

Also enjoyed the music between sets - excellent mix tape, I was grooving to stuff like Gene Loves Jezebel's "Discover" and one song came up that was driving me CRAZY...it sounded eerily like early Bowie but it wasn't.... took me two full minutes to remember that it was "Billy Porter" by Spiders from Mars guitarist Mick Ronson from his second solo album "Play, Don't Worry"... then right before Moz came on some great videos on the screen - Bowie's "Jean jeanie", "Never Turn Your Back on Mother Nature" by Sparks and "Looking for a Kiss" by the New York Dolls. Moz has great taste!

Morrissey was great tho it was a little disappointing that he did no encore and instead ended with "Meat Is Murder" with videos of animals in slaughterhouses behind him, rather a bit of a downer to leave on, by that point I was so crushed and hot I was bailing from my spot anyway so at least I didn't miss anything! Maybe it was a comment on the fact that he couldn't exactly get all the restaurants in the Showboat Casino to stop serving meat in his presence like he's demanded at some other venues? There was much PETA support with their volunteers passing out propaganda & postcards of Moz saying "Become a Vegetarian".

here's the set list - sometimes it was a few too many slower songs together but he played a lot of great stuff and of course some classic Smiths songs....

I'm Throwing My Arms Around Paris / Ouija Board, Ouija Board / Everyday Is Like Sunday / How Soon Is Now? / Let Me Kiss You / Action Is My Middle Name / Black Cloud / Alma Matters / Maladjusted / You're The One For Me, Fatty / Shoplifters Of The World Unite / Irish Blood, English Heart / People Are The Same Everywhere / Speedway / Please, Please, Please Let Me Get What I Want / First Of The Gang To Die / November Spawned A Monster / Meat Is Murder

And now get to see him again on Wednesday, how cool that is is playing Strathmore right across from Grosvenor Park, I tell ya I have NO complaints about this neighborhood!!!! That show will be seated so won't be so close but also won't have to line up all day LOL!

a few pix....

I loved the sideshow themed tapestries outside the HOB - my fav: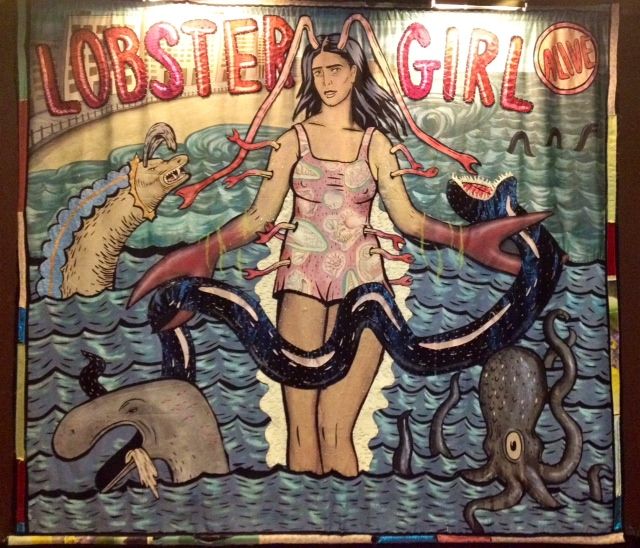 Here are the folks ahead of us in line, they must have gotten there WAY before we did, maybe the night before, by late afternoon they'd all passed out but woke up in time for the show :)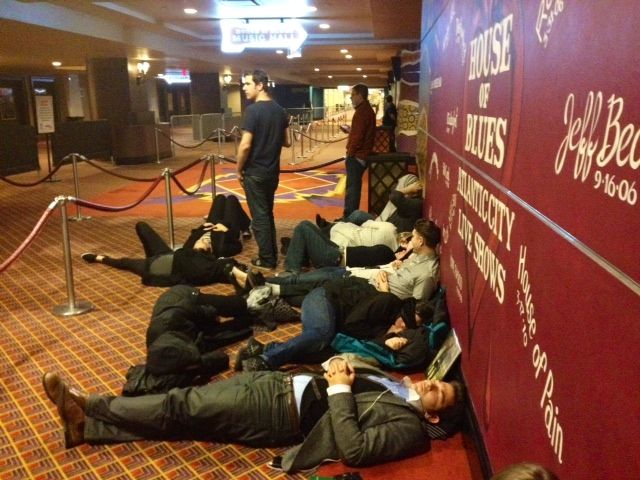 </a>

and the man......