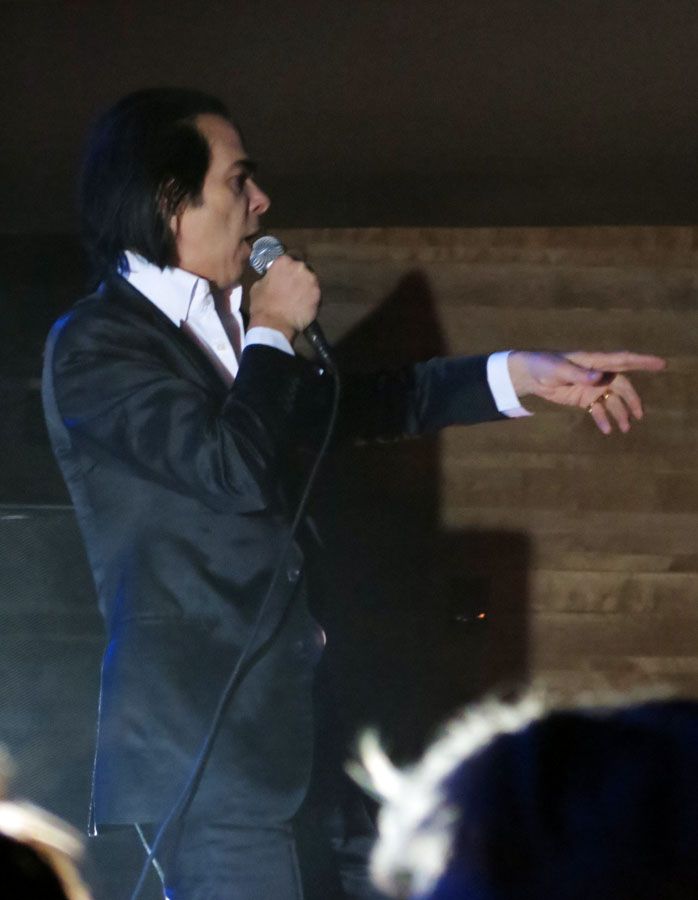 Oh man last night I was wishing you could have been there so much, you would have had a blast! Had I put known I would have tried to drag you out for this!! Even though they said no pictures very sternily I had to try and sneak a couple for you!

I totally lucked out when Nick Cave's web site offered a presale for tickets a few months back - they'd announced he was playing the Strathmore Music Hall, the beautiful posh showplace of the county that is pretty much across the street from my apartment building - YAY! (This is so much a better neighborhood than the old barrio!) The presale tickets were supposed to all be in the front half of the orchestra but you wouldn't find out until they arrived...since the tix were so pricey ($95 with fees!!!!) I could only buy one and had to go solo and not bring a friend but wondered if a lone ticket might be better than a paid - I totally lucked out as when it arrived it was row A - front row!

Not that anybody sat down - as soon as Nick Cave came on he motioned everybody to come closer so I ended up right on the edge of the stage & incredibly enough, Nick grabbed a fellow & brought him closer so he ended up next to me and it was a fellow I've run into several times at concerts in Philadelphia - last time I saw him was at the Cold Cave show in October. Damn it's a small world!

The acoustics at Strathmore are fabulous and the show was amazing, they played a few from the new album (totally loved "Higgs Noson Blues" live) and a lot of old favorites. Cave interacts with the audience a lot & sang to those of us up front - he ended up crouching down & wailing much of "From Her to Eternity" staring down at me (fangirl squee!) and grabbed my shoulder during "Deanna". He also singled out a gal in the balcony box near the stage at one point to sing to and she was singing back. The crowd was deliriously enthusiastic :)


set list ----

We No Who U R
Jubilee Street
Wide Lovely Eyes
Higgs Boson Blues
From Her to Eternity
Red Right Hand
Into My Arms
Jack the Ripper
Deanna
Papa Won't Leave You, Henry
Your Funeral... My Trial
Love Letter
God Is in the House (Beautiful violin work from Warren Ellis!)
The Weeping Song
The Mercy Seat
Stagger Lee


Encore:
Tupelo
Push the Sky Away

Sooooo happy to make it to this - I tell ya I was getting nervous that something would happen after Morrissey's tour getting cancelled (and I had a front row ticket for the National Theater - pout!) and I'm worried that the Peter Murphy tour will be off (as he was just arrested for drunk driving & meth possession - oops!) Yay for the Bad Seeds coming through!!! One of the best shows I've ever seen by them (though sigh I still really miss Blixa - I so loved when he'd duet with Nick Cave on "Where the Wild Roses Grow" and do Kylie Minogue's parts)

Related oddball Liz comment - I just love xylophones. I think it started 2way back in kindergarten as my school had a couple of really nice ones with fabulous tones I would play with in music class. I think its so cool when a rock band works them into their sound.