Cali trip started off brilliantly - 5 great shows in 5 nights (Tiger Army in San Diego, VNV at the Avalon & then 3 nights of Tiger Army at the House of Blues). From there things sorta slid downhill.... I came down with a nasty cold & sore throat & was pretty miserable most of the week (at least the eye infection hadcleared!).... tried to go see My Chemical Romance and the Transplants at the HOB Wednesday night but was unable to get a ticket - the tix my friend Kristin had lined up turned out not to be, her friend who was gonna hook us up didn't really know the guy selling them after all & we learned it was not her buddy but a fellow she routinely saw scalping. Bummer! Amelia and one of Kristin's friends got lucky and had people give them tickets out of the blue, Kristin and I weren't so lucky and headed back to her place.

Then the big disappointment - early Thursday afternoon I found out that the last two Tiger Army shows scheduled for May 26 & 27 were suddenly postponed as Nick 13 came down with strep throat. I was so damn depressed, especially after taking the whole week off from work to stay out in LA for the last two shows. They are now rescheduled for July 12 & 13 but I'm not sure i can make it back out there as I am supposed to be working a meeting the 14th & 15th and I'd miss the 14th flying back so I am trying like crazy to find somebody who can cover for me & not totally piss off my boss.

At least I got to see Star Wars Friday night in a beautiful hughe theater at "the Grove" and met Kristin's boyfriend who came up from San Diego to visit her. Saturday Amelia wanted to go see All Bets Off in Orange County so she dropped me off at my friend Mary's house and I went out to dinner with Mary & a couple other folks I know from the 7th House danzig message board. Afterwards Amelia & I met up with a bunch of folks from the AFI Despair Faction board at the Astro Burger on Santa Monica & I finally got to meet the famous Straight Edge Mark, Ramon [Brew Crew] and Lidia.

Left to right - Ramon, Amelia, Mark, Lidia: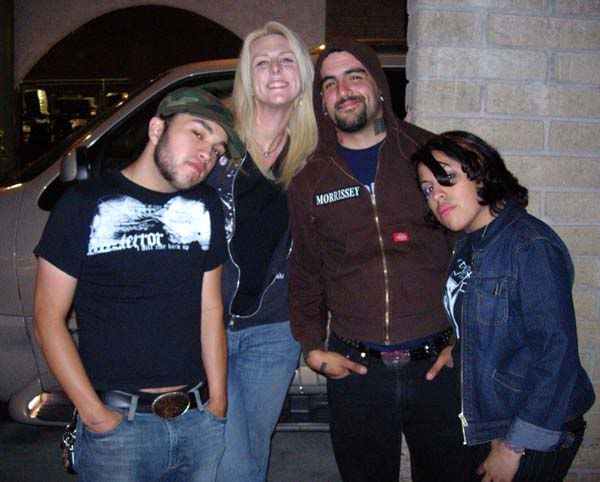 Drove back to Amelia's place on Sunday & flew home Monday... still kinda sick & very very tired & so bummed about those last 2 TA shows, hope like hell I can make it back in July!