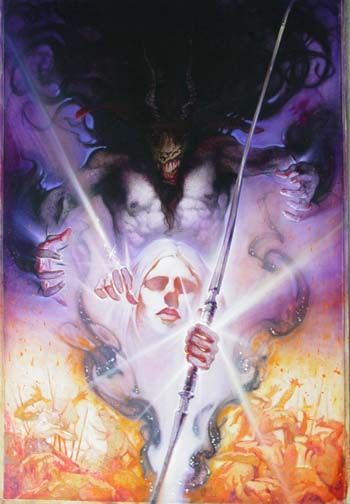 Another piece I couldn't resist - while web surfing I found a bookstore that specializes in illustration art & did a double take to see they had a very cool painting by Michael Hussar very reasonably priced, an older piece from 1998 designed as a book cover for a young adult fantasy/horror novel ("Fire Arrow: The Second Song of Eirren" by Edith Pattou) from when he was doing a lot of illustration work.

So couldn't resist grabbing it as he's recently become a favorite of mine - his stuff COMPLETELY blows me away - he's sorta like Salvador Dali meeting Carravaggio, Vermeer, Velasquez and Joel Peter Witkin in a blender - photo realistic pop surrealism with an unbelievable technical mastery that is at once beautiful and very disturbing. He describes them as "a voyeuristic snapshot of perceived humanity, complete with freaks and fakery; a gothic wonderland illuminating the gray area between truths and lies."

Anyway when I saw it the little voice in my head that sometimes says "buy this now" went off big time.... I've learned to listen to those voices. He's getting a LOT of attention in the fine art world lately (big article in the current JUXTAPOZ which prompted my surfing) & I have a weird feeling he's gonna go supernova & be in major museums within the next few years. So this is prolly the only chance I'll ever have to get a nice finished painting by him : )

Check out some of his current fine art work at his website here: www.michaelhussar.biz

Or some online exhibits here:

http://www.laluzdejesus.com/shows/previousshows/2002/hussar.htm


http://www.mendenhallsobieskigallery.com/exhibitions/0605/hussar/


http://www.artnet.com/artist/424203780/michael-hussar.html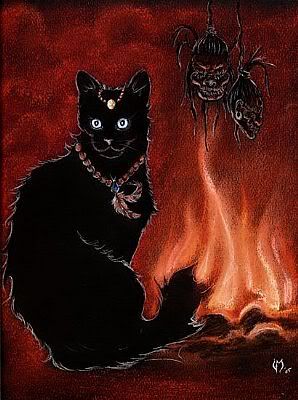 And here's another piece I picked up - a cute pastel drawing by Valerie Meijer of a "Voodoo Kitty" - I found her work in the self-representing artists section on ebay and she does these wonderful pastels of spooky black cats.

She's got a nice little online portfolio here or check out her ebay auctions.