Drove up past Baltimore early this morning for the Horrorfind convention at the Hunt Valley Marriott & had a lot of fun! The big attraction for the day was Bruce Campbell who was signing autographs and about 75% of the people there got in line for his signature which meant that for the first few hours at least things weren't too crowded for the rest of us! (personally I don't think there is anybody I would stand in line that long to meet)

Did meet author Brian Lumley & bought a British first edition hardcover of one of his Necroscope series & got it signed, also saw John Skipp & got an amazing reaction out of him when I mentioned that I'd met him many years ago when he came up to a Creation comic con in NYC with my friend Leslie Sternbergh (he slept on the floor of our hotelroom) & how I remembered him writing a song & singing it & playing it on his acoustic guitar for guest of honor Harlan Ellison! This was before he started getting publiched & went on to be one of the best known in the "Splatterpunk" horror sub genre. Its so cool to see somebody you met a long time ago "make it". I love the novels he co-wrote with Craig Spector (they were pretty well known as "Skipp and Spector") like "the Light at the End" and "The Scream", he's now putting out some new stuff & told me to check out his website - www.johnskipp.com

I got a ton of compliments on my ink & what really amazed me was several people recognized my werecat sleeve from seeing it in TATTOO magazine! One woman told me she bought the magazine just for that picture & turns out she's also a tattoo artist in Connecticut - that was really flattering!!


There were a lot of bad tattoos and a few really amazing ones. I was way impressed with this guys sleeve which incorporated the "Army of Darkness" and "Evil Dead 2" movie poster designs: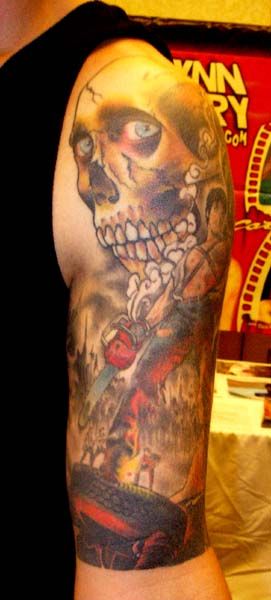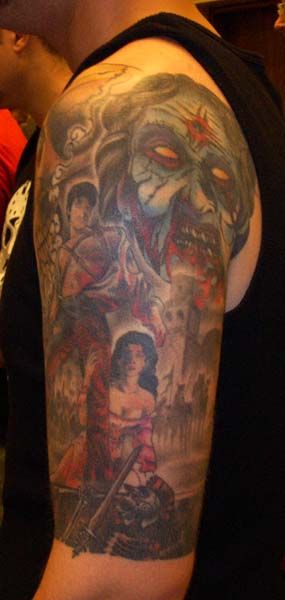 Awesome movie poster on display for Devil's Rejects -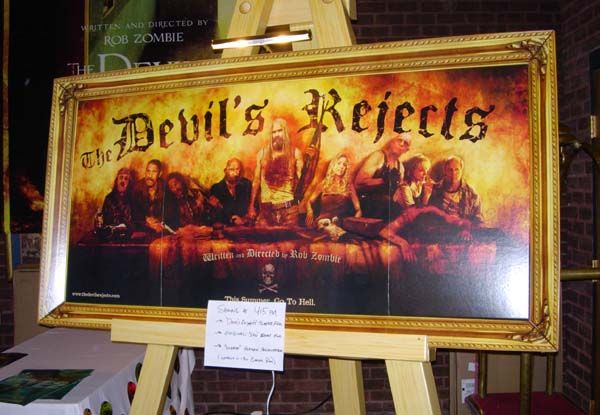 Hooray for Captain Spaulding!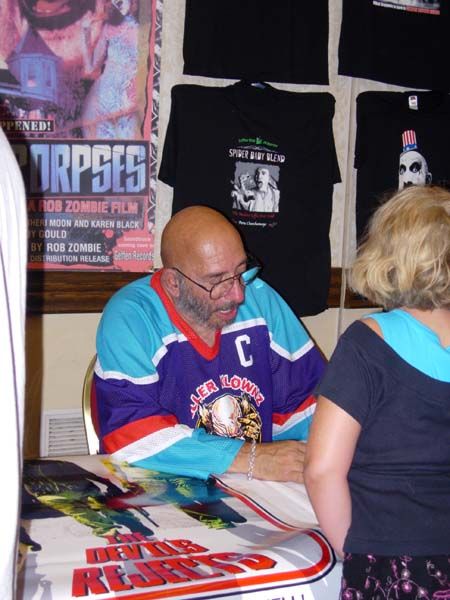 Even Tom Servo was waiting in line to meet Bruce Campbell: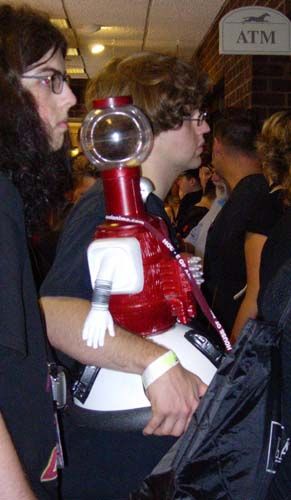 I got a really beautiful little lavender "Nightmare Before Christmas" music box - if you open it up there is a little figure of Sally next to a tombstone that rotates around while it plays "This is Halloween"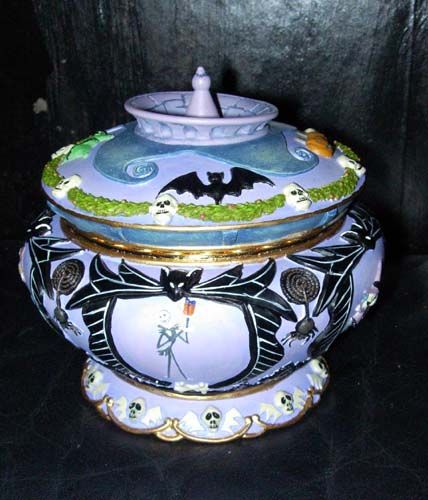 and a pair of Jack Skellington salt & pepper shakers: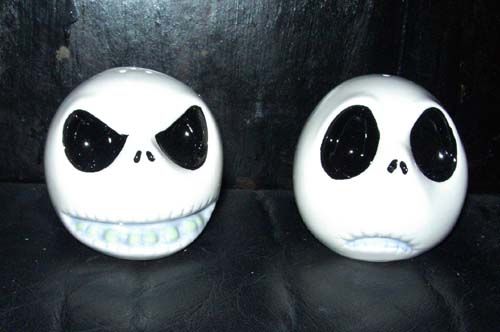 And next weekend I'll go up in NJ and do it all again at Monster Mania!!