So Saturday morning I headed up to Chris's place in Baltimore and caught a ride with him up to Cherry Hill, NJ for the Monster Mania convention and BOY am I glad I made it! I kinda overdid it on the shopping this time but I got some mondo cool stuff & a few real bargains!

Best deal of the day - I found a dealer selling off a lot of his Nightmare Before Christmas toys and I am pretty sure this is the same guy I got a bunch of the Jack Skellington dolls in little cardboard coffins (Made in Japan by Jun Planning) last year. He had a ton of rare stuff CHEAP but since I have so little room for toys I held back but couldn't resist the one toy that has been highest on my NBC want list for years! Its a boxed set by Jun Planning of Jack driving his coffin sleigh pulled by 3 little reindeer skeletons and with Zero leading the way - I was thrilled to finally find it, I've been looking for one since they came out in 1999 - they were originally like $90-100 new and I balked at that but they've gone way up since, I've been outbid on them a BUNCH of times of ebay & seen them go for $150-200 sometimes. So not only was I thrilled to find it but for only $50!!!

Then splurged at the Dragonfly Productions both because they had so much cool stuff : ) These guys have taste! Booth was manned by the two fellows who write & illustrate the little "Naughty and Dreary" books, John LaFleur and Shawn Dubin. John writes them & was manning the booth when I got there so I talked to him for quite a while, turns out he is also on the board of directors of the Edward Gorey museum and works at the Gorey house on Cape Cod (I am so gonna have to make a Cape Cod roadtrip to see that!!) That also explains how Dragonfly got the licensing to do many Gorey related items (including the cute stuffed grey Gorey cat in a striped orange and black sweater - John calls him "Catober".

I love their books and have been buying them for the last several years since they started publishing (got #1 at the 1st Monster Mania and #2 at the 2nd one last year) The main characters are two teenagers who don't fit in - Dreary is a skeleton boy (destined to grow up to be "Death" from the 4 Horsemen of the Apocalypse tho he doesn't want to) and Naughty is a cute little devil girl who's dad rules hell but she'd rather make stuffed animals. Their parents are disappointed in them for not wanting to follow their destined career paths & the illustrations are adorable. (I also found out that the artist, Shawn Dubin is a tattoo artist in Philadelphia - he gave me his card & it is VERY tempting to get him to design a neat piece of his characters! John had two tattoos he'd done of the 4 Horsemen logo & the N&D logo that were quote nice!)

I picked up a couple of copies of each books & got them signed by both to give as presents to some of my friends who I felt would enjoy them. (always like to turn people on to new stuff!) I also got myself some really nice little glass pendants they had for sale of Naughty and Dreary that were made buy an artist up in Salem, MA and a super soft stuffed creature that is from the 3rd book because I laughed so hard when I noticed the name on the tag - "Bunniekittie". When Amelia came to visit she was giving my tubby tabby Spooky cat nicknames & calling him "Fat Boy" and "Fluffy Bunny Kitty" and they kinda stuck so I had to get a stuffed Bunniekittie, it will go great next to the "Mr Redbones" stuffed devil I got from them last year. And they make absolutely the softest plush toys!!! (Manufactured for them by Gund)

Also at their table was one of my all time comic artists,. James O'Barr who I hadn't seen in a few years so it was great to see him again! O'Barr is the genius behind the comic "the Crow" and that was the first comic I got addicted to back when it was first being published by Caliber in the late 1980's and it has remained one of my favorites since, also have been collecting his artwork since I first met him in '92.

Anybody who's read the original comic will know James has great taste in music as references are scattered all through "The Crow" - phrases and lines borrowed liberally from Joy Division and The Cure, there are characters wearing Misfits shirts (one panel has a character that looks suspciously like Doyle on the back cover of "Walk Among Us", others resemble Robert Smith) O'Barr also used to be in a rather cool industrial outfit himself called "Trust Obey" that did a soundtrack for the comic (still have a demo tape he gave me in '92) So it was very cool & not altogether surprizing to see him wearing an AFI "Sing The Sorrow" shirt today - no surprize he's a big fan of their most recent work!!

He was glad to see me & I picked up a sketch of the crow from him as well as a new portfolio of prints and a little sketchbook he'd put out with copies of some of his most recent work in it. I commissioned him to do another sketch but he didn't get to it so I asked Chris to pick it up for me on Sunday - unfortunately it wasn't done then so O'Barr promised to mail it to me. Meanwhile Chris is on a mission to get ll his favorite artists to do a sketch of Devilman in his book - he got ones last week at Horrorfind from Cramps cover artists Steve Blickenstaff and Basil Gogos and O'Barr was happy to contribute - we left the book with him while we ran out to Chilis for lunch an dcame back to find a great sketch waiting!

Also inquired about larger commissions as I have something REALLY cool in mind I would love to see him do a large finished painting of and he's up for it if I can send him reference photos :) Dragonfly has put out some really nicely sculpted resin statues of the Crow & they had them for sale REALLY cheap so I got one of the large standing ones & one of the small sitting ones.

And if that wasn't enough.... I met a gal named Amarynth who does nice hand painted & collaged boxes made into purses (as well as picture frames, soaps etc) - started talking to her when I admired her rats (well actually I was also admiring the really cute goth fellow with her too!) & turns out she's also a friend of Myke Hideous and Philly glamgoth Jeff and used to kno wmy friend Carrie from Philadelphia (RIP). I got a really cute purse from her that's a little box with a glass front & painted spiderwebs all over it (it glows in the dark too...) while I think its too fragile to use as a purse (I wouldn't want anything to happen to it!) it will make a cool display case for some artwork. And then I saw the hand painted jewelry box with Vampira on it & couldn't leave that behind either :) She's always looking for photos to use in collages & esp wants to do more psychobilly related stuff so I gave her my web page & permission to print out & use any of my pics!

Ohh my aching wallet.... but so much cool stuff!

Click for lots of pix........


Here's James O'Barr working on a sketch -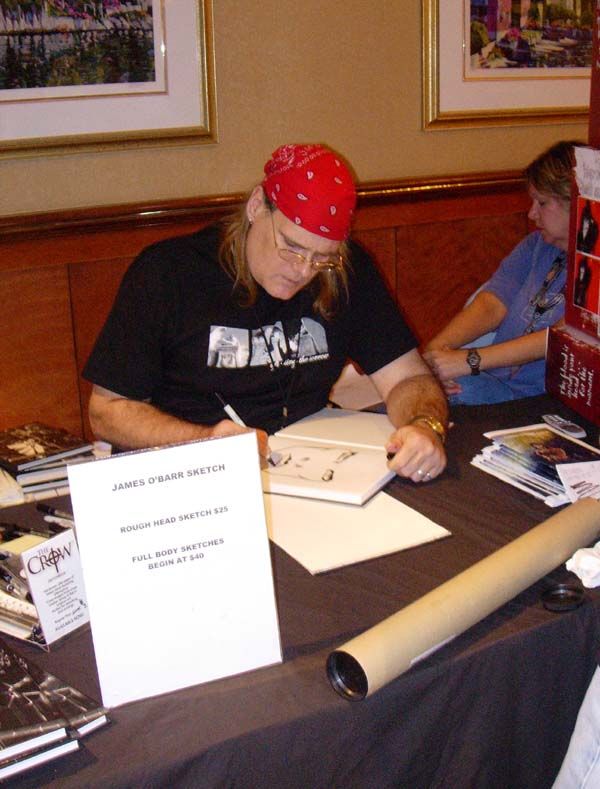 O'Barr and Chris: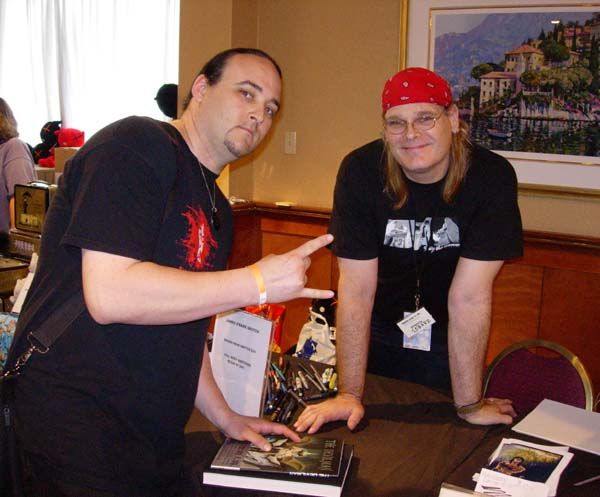 Devilman sketch he did for Chris -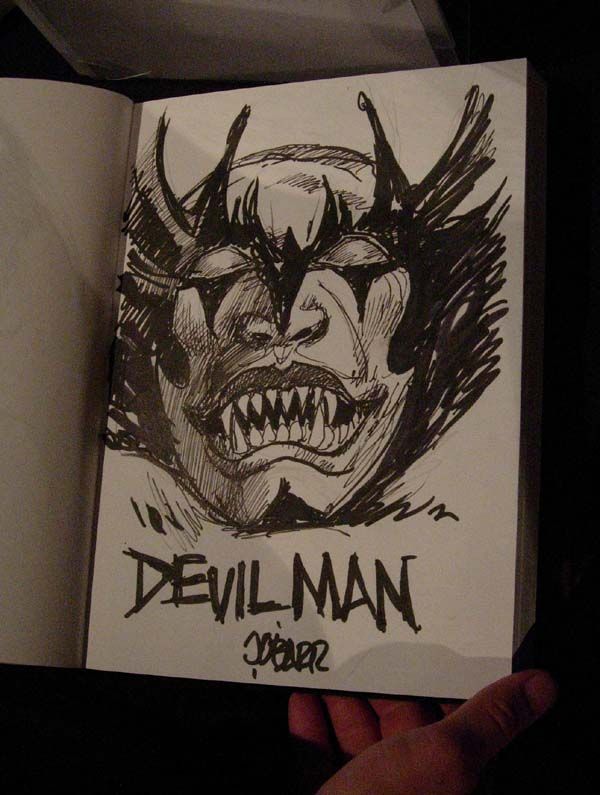 Drawing by O'Barr of the Crow that I bought -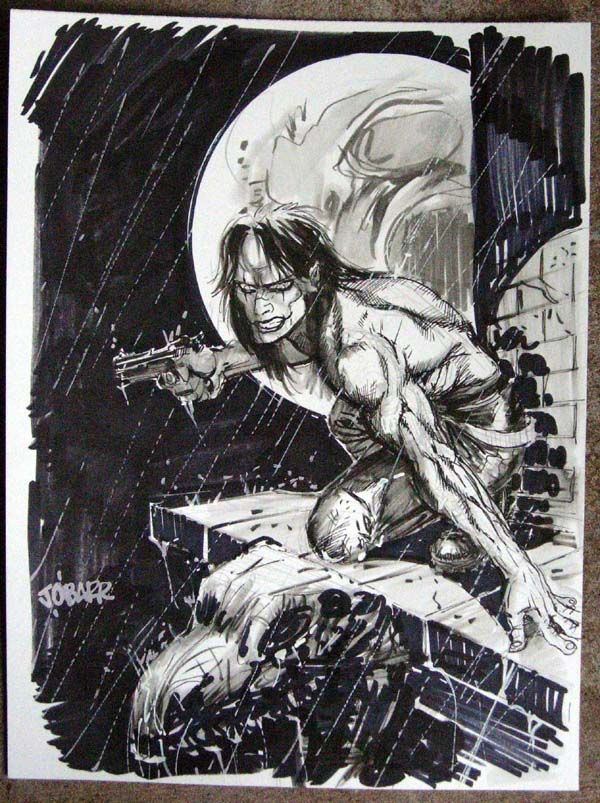 Chris and Sid Haig -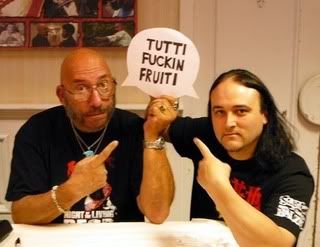 John from Dragonfly Productions, author of the "Naughty and Dreary" series -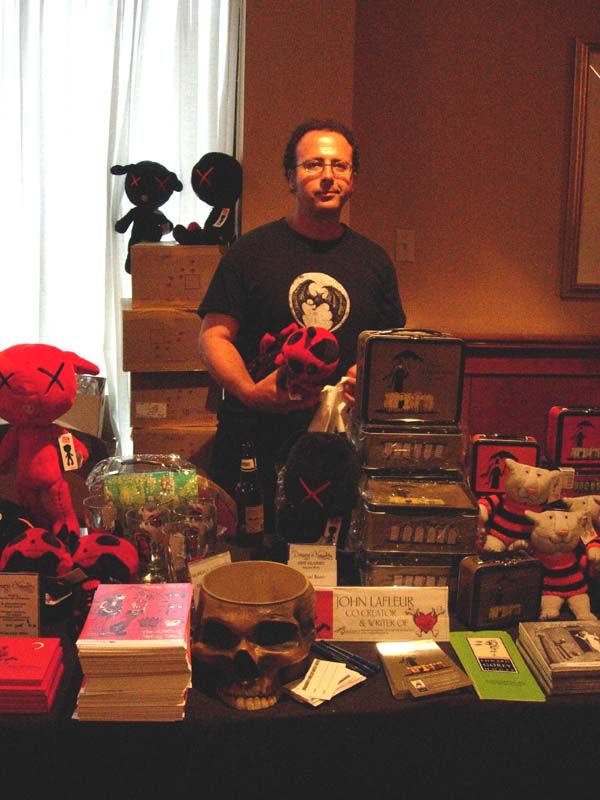 Some of his goodies for sale - (the black stuffed animal is "Bunniekittie")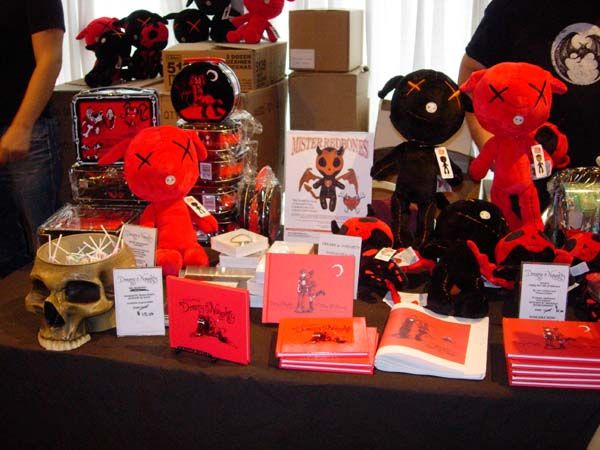 Flyer for upcoming "Naughty and Dreary" book: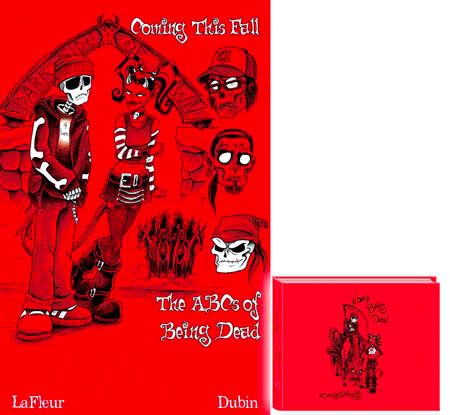 Some of Amarynth's neat collaged purse boxes and stuff: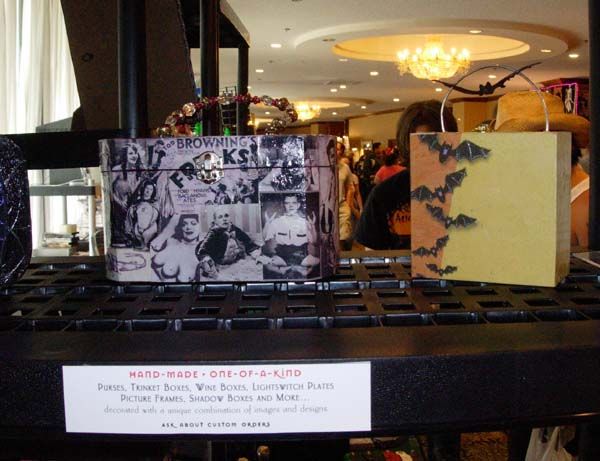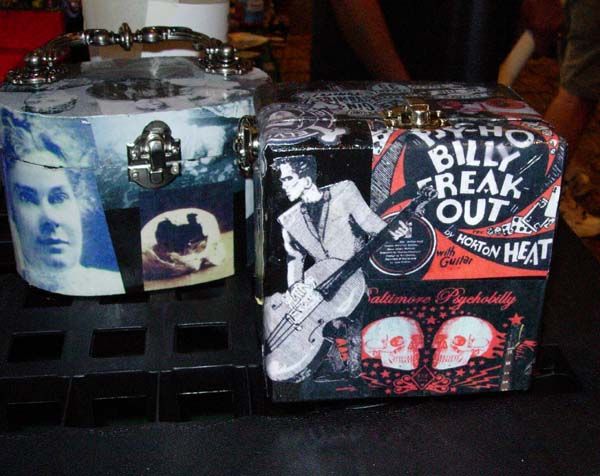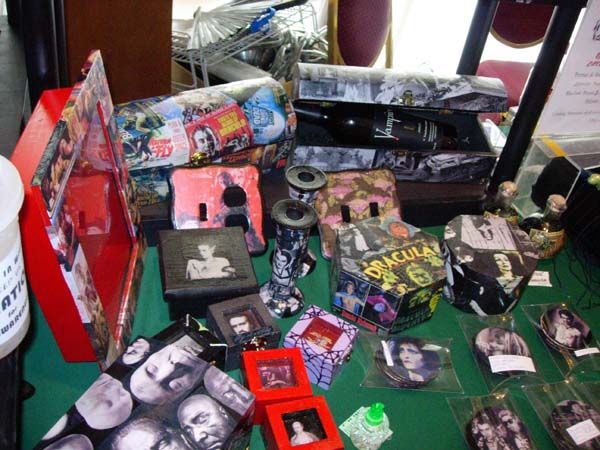 Spiderweb purse I bought:



Vampira jewelry box I bought: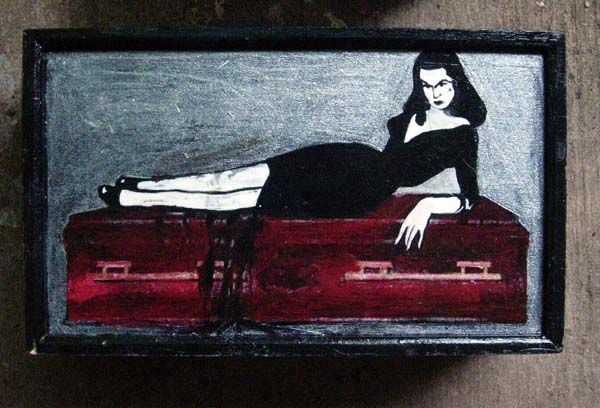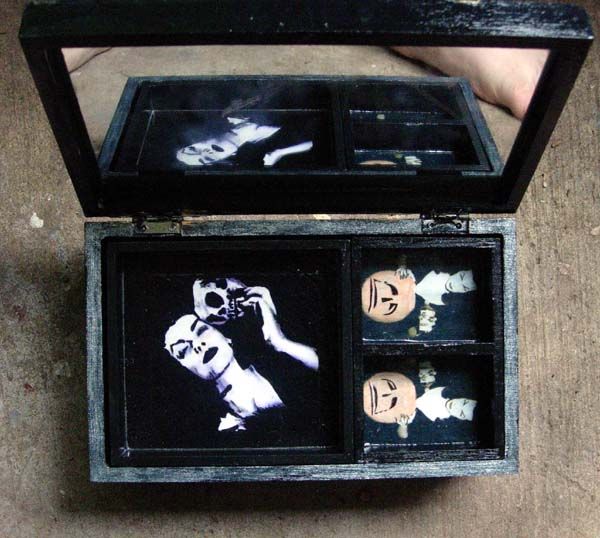 Jun Planning Jack Skellington and sleigh I found!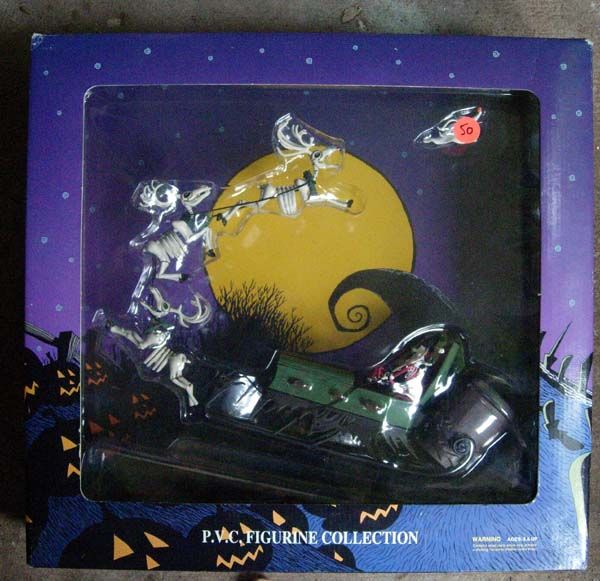 Check out more work by James O'Barr here: