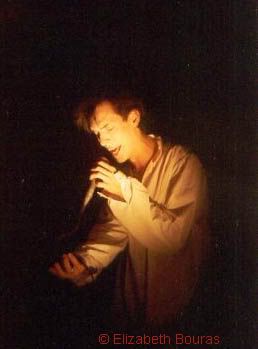 ....I still splurged a few minutes ago & got 2 tix to see Bauhaus on November 22 at the new Strathmore performing arts center.... The fan club presale was this morning & the best I could find when they went onsale was 10th row of the front section of the orchestra but I took it rather than chance getting worse...

I hate seated shows but I mean, its in BETHESDA like two miles from where I work?? Weird enough thinking of Peter Murphy & Co in Bethesda... How could I not go.... I guess I was afraid if I passed on tix now I'd regret it later... at least I can see them in the pit at the Wiltern in LA on Oct 28 & 30th.... now to decide if I still want to also go to the NYC show at the new Nokia theater Nov 12 (also general admission) or sell those tix since it will cost a small bundle to get to NYC & back and I also wonder how cold it would be outside in November if I waited in line for hours to be able to get up front....

Just wonder why tickets here are so much more than everywhere else - the LA and NYC shows were about $50 each with all the ticketbastard charges & for suburban DC it was $60... you'd have thunk LA & NYC would have been more instead of less?? I had to pass on Depeche Mode who are coming in December - those tix were $75 even before the ticketmaster charges - the total would have been closer to $90 which IMHO is just too much. Part of me thinks that paying that just sends a message that its OK for them to gouge ya. Yeah I know I'll spend triple that to fly cross country for a free show so I guess its the prinicple of the thing....