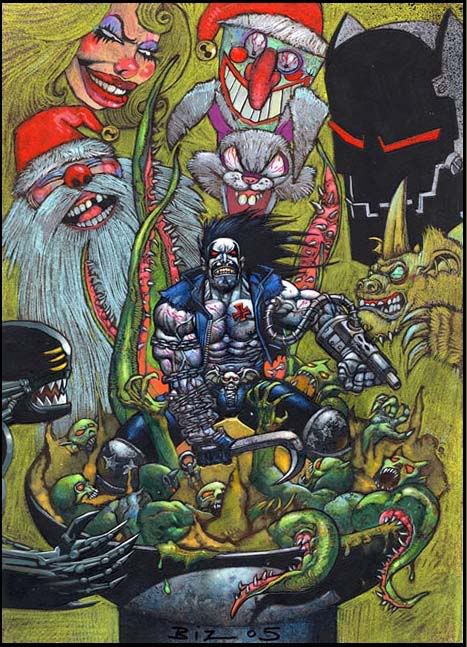 For many years I've been collecting original comic art & have usually managed to get at least a good example of each of my favorite artists but a few have always elluded me, usually due to $$$. My ultimate comic art holy grail for the last 15 years has been to get a good example of Simon Bisley's work ever since
spyderbaby introduced his stuff to me back in the first Lobo mini series in 1990! And a Lobo piece would have been the best since its the character he is most identified with and created the definitive version of (and plus he just a generally cool badass motherfucker, imagine a cross between Snake Plissken & Lemmy....)

So today I hit it big on ebay & found Bisley's UK Rep selling a Lobo painting with a low start & no reserve & thought WTF and put in an esnipe while I went out to lunch. And came back and holy shit, I WON! I guess all the other collectors missed it, maybe ending on a Friday afternoon on ebay (on a holiday yet) isn't the best way to find a high rollers but I am thrilled to pieces right now! Anyway while it wasn't exactly cheap it was a real bargain for a Biz, about a quarter of what I usually see his paintings go for.

So I'm doing the happy dance!

Aside from that, otherwise also a good day :) Yesterday I got presented with an out-of-the-blue Incentive Award at work & they gave me a gift certificate for any Westfield Mall so I felt obligated to frivel it away & went to Montgomery Mall last night & got a little crazy at the Body Shop (Kinetin moisturiser & citrus and vanilla scented Body Butters) & Hot Topic where i picked up a Nightmare Before Xmas steering wheel cover (to replace the dead leopard thing), some NBC jammies & a little set of Pirates of the Carribean action figures so now i have my own little Jack Sparrow/Johnny Depp and Orlando Bloom on my desk. How very non-work related & frivolous! And since it was Veteran's Day holiday with no work today Judy and I had a nice lunch at Longhorn.

And tomorrow I'll be off to NYC to go visit my friend Myke & see Bauhaus at the Nokia theater which will be fun - its my last planned trip probably until February (when Tiger Army will be doing a couple of shows at the HOB in Anahiem - yay!!!) Now I really need to spend the winter at home making some stuff to sell on ebay to pay for my indulgences!!!