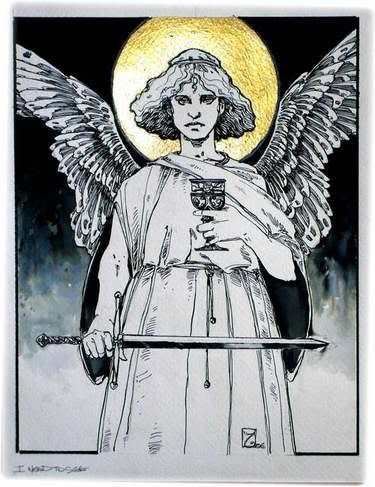 OK one of my new year's resolutions is to be a little better in the finances department & work on getting rid of my debts - so far so good, have been selling some of my horse figurine collection & I got a very generous offer on one piece that will allow me to pay off my car loan early as well as one of my two credit cards in full so while it's hard to part with that piece it was so similar to another one that I'm keeping that I couldn't justify hanging on to both. It will feel REALLY good to have the car paid off early - it only has 56,000 miles on it & everything is under warranty to 100K so I should have a couple good worry free years there!

So since I've been good, I treated myself to a minor splurge on ebay since I had some $$$ in my paypal account & Mr. Zulli listed some more beautiful drawings & snagged this lovely pen, ink & gilt angel....

Sigh... Zulli & Jeff Jones are the greatest living Pre-Raphaelites :)

Feeling lots better than last week, the antibiotics did their trick & I'm breathing well & finally back to the gym for the first time in eons it seems, now if I can just keep it up!