So after work last Thursday I flew out to LA yet again (I feel like a commuter at this point, SoCal is most definitely my 2nd home and I swear I have more friends there than in DC!) My friend Mary from the 7th house Danzig board was nice enough to put me up at her old house (now sold to her daughter) as her daughter was off camping for Memorial Day weekend & Mary came along with me to the 1st 2 shows at the Troubador and the Henry Fonda theater and we were also joined by our friend Blivvy for the Fonda!

So Friday we hada nice afternoon shopping on Melrose & in Hollywood, was at Amoeba Records on Sunset (world's most awesome record store the size of a city block!!!) buying a stack of CDs and who should I run into but Fred Hell, the former drummer for Tiger Army whounfortunately left the band almost two years ago due to health problems. He'd been shot in the head in March 2003 by some robbers who broke into his friend's house and though he recovered well he still has a bullet permanently lodged in his brain as it would have done more damage trying to take it out! And sadly the injury damaged his motor skills enough that it made his drumming slightly off. I've missed him quite a lot since he quit TA and often wondered how he was doing so I was thrilled to see him - he's since gotten married & had a little daughter & they are quite the happy family and according to Fred its "all about the baby now" so I am very happy for him - he's looking good and doing well!!!

Then after dinner at Mel's Diner on Sunset Mary & I went over to the Troubador & ran into Geoff Kresge & Mad Dog Chad hanging outside - they were excited as it was Viva Hate's first ever show opening for Throw Rag.

And DAMN are they good! On vocals is Matt Wedgely a/k/a "the Wedge" formery of the Force (and also the fellow behind Wedge records who put out the AFI "Fly In the Ointment" 7" which is now a rare collectible plus the "Punk Fiction" comp album that features Davey Havok in Uma Thurman drag on the cover as a great homage to the Pulp Fiction poster). And on guitar is Eric Razo from the psychobilly group the Henchmen. All 4 of these guys are tremendously talented & bring a lot of experience to Viva Hate & the result is even more than the sum of the parts - I was damn impressed, especially considering it was their first ever show.

And damn its great to see Kresge on upright bass again =)

Needless to say I took lots of pix - since I couldn't use a flash at the Troubador it was a bit of a challenge as there was just a green spotlight & the light level was low but I got some cool spooky effects :)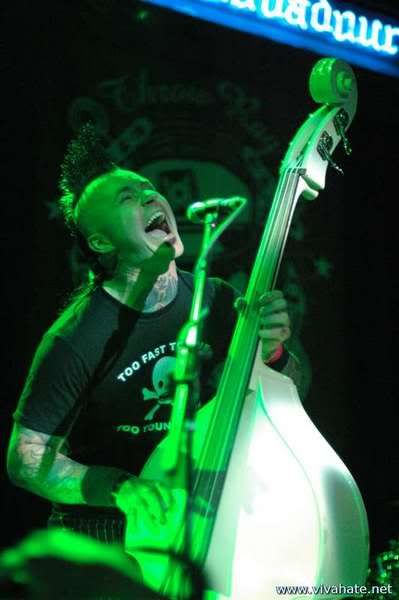 After the show Amelia stopped by with Sonia & Stacie, unfortunately too lato the see Viva Hate but at least they got to see the guys and Kamilla and meet Chad's new wife (though long time GF Stephanie & I talked Amelia& Stacie into a raincheck & coming down Sunday to the Corona show. Then we headed over to Swingers & had great food & gabbed & eventually Mary & I drove back to Orange County to crash for the night.

To be continued.....