Following Warped we drove straight to Myrtle Beach thru even more rain & got a big lost in the Myrtle Beach vs. North Myrtle Beach concept mixed with mapquest & finally crashed out about 1:30 AM. yay for the wonderfully soft Marriott beds at the Courtyard tho!!! Got a decent night's sleep (thanks to the beds) & went over to the House of Blues around noonish & met up with some friends & had lunch there (yumm sweet potato fries!!) It was REALLY hot & sticky but thankfully they had some little tables & rocking chairs so it was a comfortable, if long, wait. We bought tix o their $10 "Crash the Barricade" buffet of hotdogs & hamburgers to get let i n early but that turned into a mob scene & I got stuck at the door while they way-too-thoroughly checked a gal's purse & by the time I was in the floor was 5 deep & there was no way to make it to the rail so instead I grabbed a very good & fairly close spot up a few stairs to the right - thankfully there was an air conditioning vent right in front of me which prolly saved me as they smoke like fiends down there - I've gotten so spoiled from all the venues (esp in Cali) that outlaw smoking.

Nightmare of You weren't bad but I really can't stand the Dillenger Escape Plan - I just can't get into screamo style singing & I spent their set mainly fantasizing about tossing him over the fence into the big alligator infested pools of the adjacent Gatorland.

At long last AFI came on - another wonderful set, great lighting which made me fantasize again but this time wishing I had a photo pass & my D70... since the HOB are always security nazis there was no sense even trying to smuggle a camera in. Sadly I didn't win their 5th column contest for a press pass but I met the gal who did & hope she got some good shots with her borrowed D50. Only minor disapppointment in that they didn't play "Endlessly, She said" as we'd gotten our hopes up when we heard them do it during the soundcheck earlier that afternoon.

Afterwards we were so dead Judy & I headed back to the motel & crashed out. It was a long ride home the next day and we were punchy...for unknown reasons we are always entertained for the signs for "Triangle Waffles" that all say "Jesus is Lord - Closed Sunday" and somehow imagine waffles with religious imagery branded into them. What can I say but hyper active imaginations. Somehow it had beciome a long running joke since we'd seen them on an earlier road trip years ago.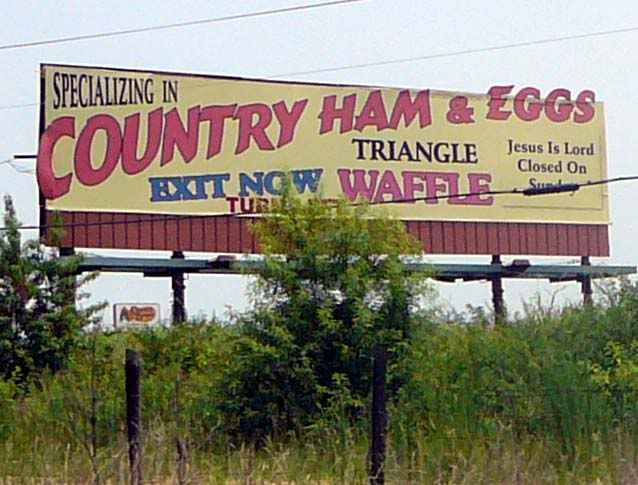 We were highly entertained when Davey Havok & Adam Carson took over XM radio's "Ethyl" station for slightly over 2 hrs & played much of my favorite 80's tunes including the Sisters of Mercy, Bauhaus, Specimen, Moz, Ecgo & the Bunnymen, Erasure, Depeche mode etc etc.

Somehow I made it into work on Friday tho BARELY & then left an hour early for BWI airport & flew out to LA for Hootenanney!!