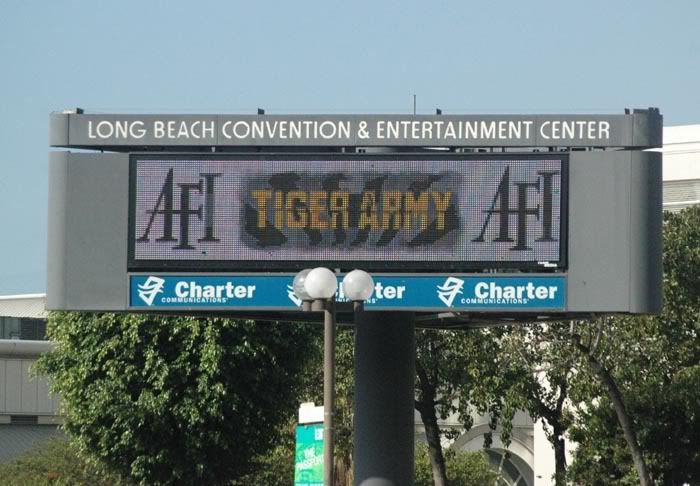 So after relaxing Friday morning at the aquarium I went back to my comfy hotel & chilled a bit, was visited by Amelia who brought along her new little puppy Chloe who is absolutely adorable! Then Mary came over & we got a late lunch of utterly bland psuedo chinese food at P.F. Changs (I should know better than order "Chinese" in a restaurant with no Asian people present!) & then headed over to the arena to get in line. Spotted lots of folks I recognized like Sonia who was waiting to be interviewed & Straight Edge Mark who ran over & gave me a hug and I think I spotted Ivy from the DF board. Found Smith & passed on greetings from Geoff Kresge & that got a big grin and a "Yes!". Ran into Jeff Roffredo and wished Jeff a happy birthday since his birthday is today (September 18). I asked Jeff if he knew when the album release would be but he didn't yet know but said it was "a good mix" of songs, REALLY looking forward to it, hope all the tunes will be as wonderful as "LunaTone"

Didn't really expect to be up front since we were kinda far back in line but when the doors open everybody clustered in the middle and there was still space on the barrier off to the right of the stage (Stage left) so Mary & I grabbed those spots, very much like where we were in Irvine.

Saosin was first and OK (not a big fan but at least they weren't awful like Dillinger Escape Plan which made me really appreciate many other bands), then Tiger Army came on – their set list (possibly not quite in order but as close as I can remember)

Ghost Tigers Rise
Ghostfire
Nocturnal
Cupid's Victim
Santa Carla twilight
Rose of the Devil's Garden
Atomic
In the Orchard (with Donny on steel guitar)
Incorporeal
LunaTone
Never Die
Annabel Lee

A sad moment – Nick dedicated "In the Orchard" to his uncle who had died two days earlier (while TA were in Phoenix) – the sound and lighting was great as they were obviously testing everything out for AFI, only wish that TA had been recorded as well!

Next up – (after a longer setup…. And watching all the folks to the side going in and out of the backstage area… all the little girlies around me got really excited when Jeffree Star kept going in and out and screaming "Jeffree Fucking Star" – obviously they haven't seen nearly enough transvestites with hot pink hair if they get so excited about that one.)

Then at last, AFI – this was a BIG show for them, their biggest ever headlining gig and they were taping it for DVD release (yahoo!!) - I guess if you were to try & make it to one show on this tour, this was the one to hit and I'm REALLY glad I made it! Setlist was a bit different from the other nights, finally got to hear "The Missing Frame" live and also they played "Endlessly, She Said" again. It was a really great show, you could tell how blown away Davey was that they had sold out such a huge fucking arena and wanting to do the best for the fans. He did the crowd walk during "God Called in Sick Today" and made it back pretty darn far into the crowd – the furthest I've ever seen him go.

But the big treat for me was when they played "A Single Second" and brought Nick 13 onstage to sing with them... So happy it will be permanently recorded & available!! Knowing it will come out on DVD makes up for the lack of photos.

AFI set list:
Prelude
Girls Not Grey
Leaving Song Pt 2
Summer Shudder
Days of the Phoenix
Bleed Black
Death of Seasons
The Missing Frame
A Single Second (with Nick 13!)
Love Like Winter
Kill Caustic
Endlessly, She Said
This Time Imperfect
Totalimmortal
Silver and Cold
Dancing Through Sunday
Totalimmortal

encore:
God called in sick today
miss murder


Since Tiger Army wasn't headlining I was unable to get a photo pass and I didn't even try to sneak a little digital camera in, but some folks did & I got permission from 2 posters on the AFI board to add their TA pix to my website - Winnie Jaing also got a couple great shots of Nick 13 singing with Davey on "A Single Second":
www.ghosttigers.com/gallery/concert/LongBeach-Sept-15-2006.html

So now Tiger Army will be heading into the studio to record so no more live shows until early next year. (Albert hinted at February :)

Very very glad I made the trip out here for these shows!!!

(and at the merch booth I found a lone embroidered TA cap - I'd never seen one before & at first the guy at the counter didn't want to sell it as it had some dirt on it but since he couldn't find any others I talked him out of it for zee collection!)

Afterwards caught up with Louie and Clairissa and went out to eat at the Shorehouse in Seal Beach – great food for a 24 hour café, gotta remember this one! Great to get a chance to hang out again, know I'll be back in not too long :)

Then back to the hotel & crash for a flight back the next day – always hate to go home but I can always come back.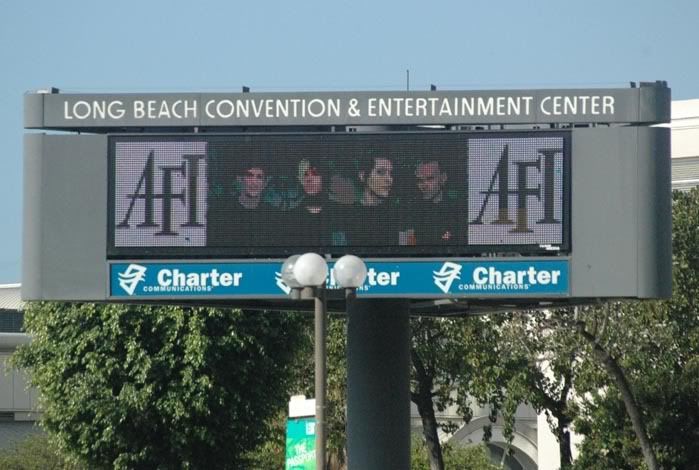 The Long beach Arena (which I initially drove over to Friday morning thinking it was the aquarium since ithas fish all over it....)