New tattoo as of this afternoon on my left calf, again by Susan Behney @ Jinx Proof Tattoos in Washington DC (what would I do without her???) based on a cool painting by Marty Fuckin' Emond (shown here).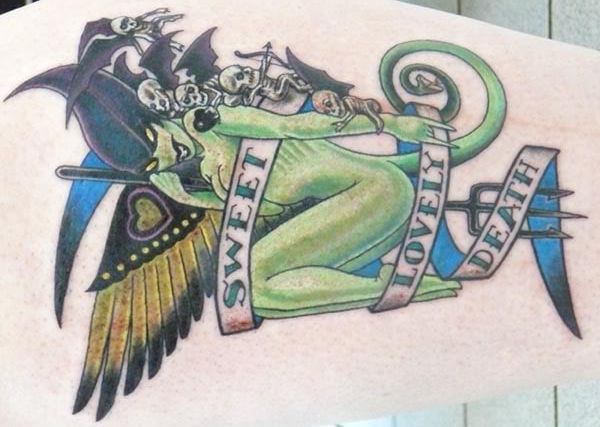 Once again Susan has totally exceeded any expectations & this is a great tribute to an incredibly talented & much missed artist with a nice little reference to the 'Fits :)

And I fixed the annoying iTunes problem by downloading a MUCH BETTER program for my iPod called Anapod available here. IMHO worth the $$ especially if you have 40 gigs worth of backed up music to transfer like I do and it's zipping along nicely now! :) iTunes aside, I do love the actual machine, I even now have a few videos on there i can watch which makes me feel totally decadent especially remember when I was a kid & we finally got a BLACK AND WHITE TV when I was 8...

Boy am I sore... early to bed tonight & pray Spooky cat doesn't land on me while I'm sleeping...