my hat is off to
jacksonpublick & Doc Hammer - creators of the cartoon series "The Venture Bros". Last night Adultswim.com posted the season finale online ("Showdown at Cremation Creek Pt. II" on their preview "the Fix" and I was able to watch it online. I absolutely adored it and burst out laughing hard enough several times for Judy to come investigate.

Especially adored the guest appearances by David Bowie, Klaus Nomi and Iggy Pop spouting off lines of various song lyrics. Almost feel sorry for the folks who don't know the material and won't get the jokes but one reason I love VB so much is that it is so steeped in pop culture trivia, especially music related. (Not to mention a soundtrack by J.G. Thirlwell, Mr. Foetus himself).

Anyhow it will broadcast on Adult Swim on the Cartoon Network tomorrow night at 10:30 or 11 PM, something like that. Be there or be square and dammit there had better be a 3rd season!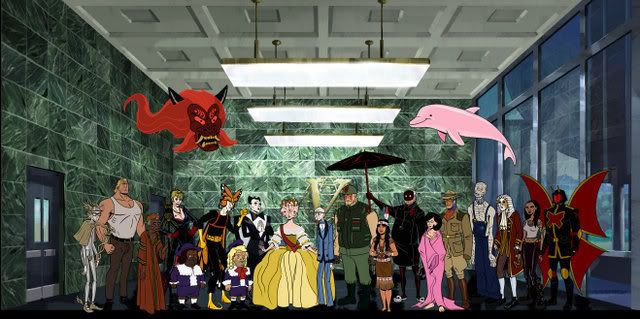 Was very sorry to find out that the whole chain TOWER RECORDS is going out of business, even if just for their huge magazine section & the fact that they were open 365 days a year until midnight so it was a great place to go if you were bored... Truthfully I almost never bought CDs there tho as they were always too expensive with most of the new ones about $16.98. I went by there today as they were having a big sale, books were 20% off so I picked up the lovely photo book "Moonage Daydream" of Mick Rock's Ziggy era Bowie photos & a book of Yoshitaka Amano art called "Genii". The CDs were only 15% off so I just nabbed two, the CVD single of "You Have Killed Me" and Gary Numan's "The Pleasure Principle" since even at 15% off most CDs were still more than I could find them elsewhere but as they'll be discounting more each week I'll stop by in 2 weeks & see what's left.

I will really miss the magazine selection tho, I did buy a lot there :( I am betting there will be a trickle down effect & a lt of small press mags may go under where Tower was their major nationwide distributor.

Sigh...